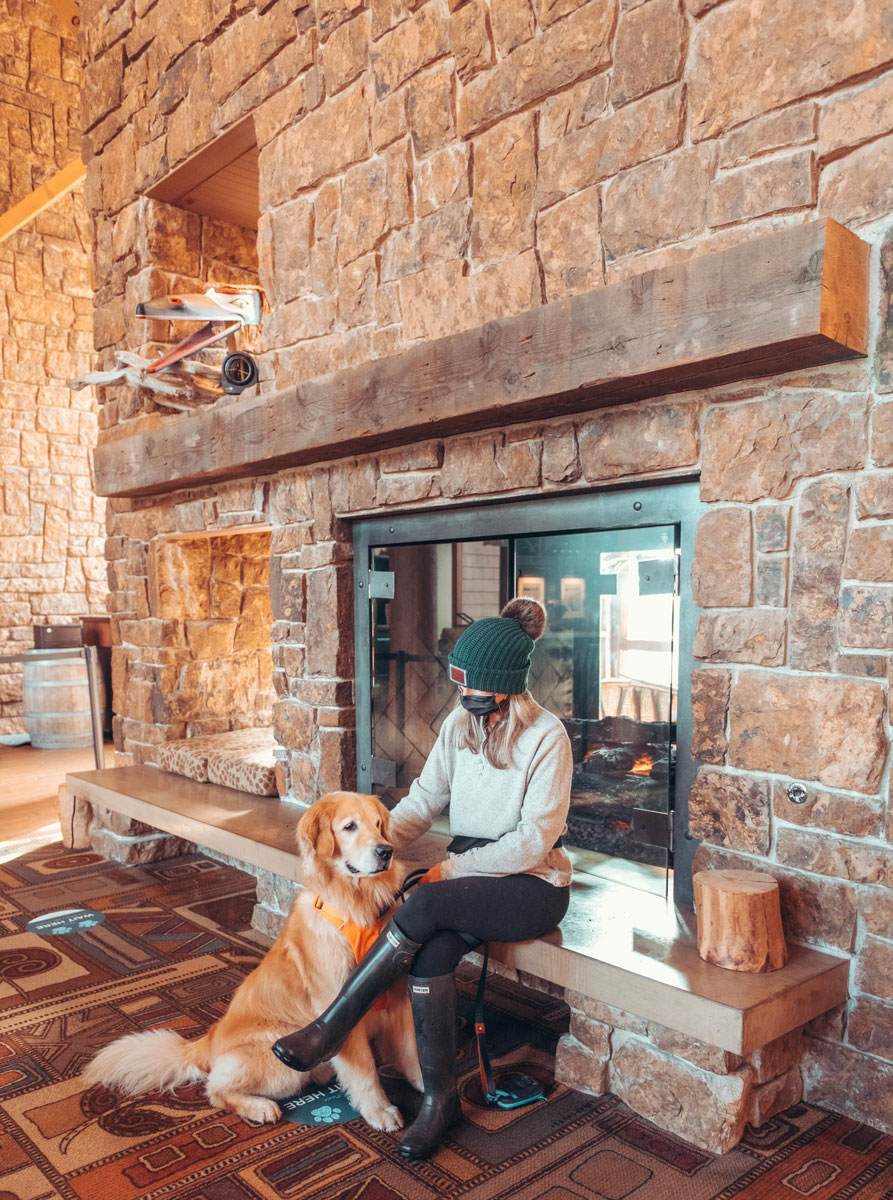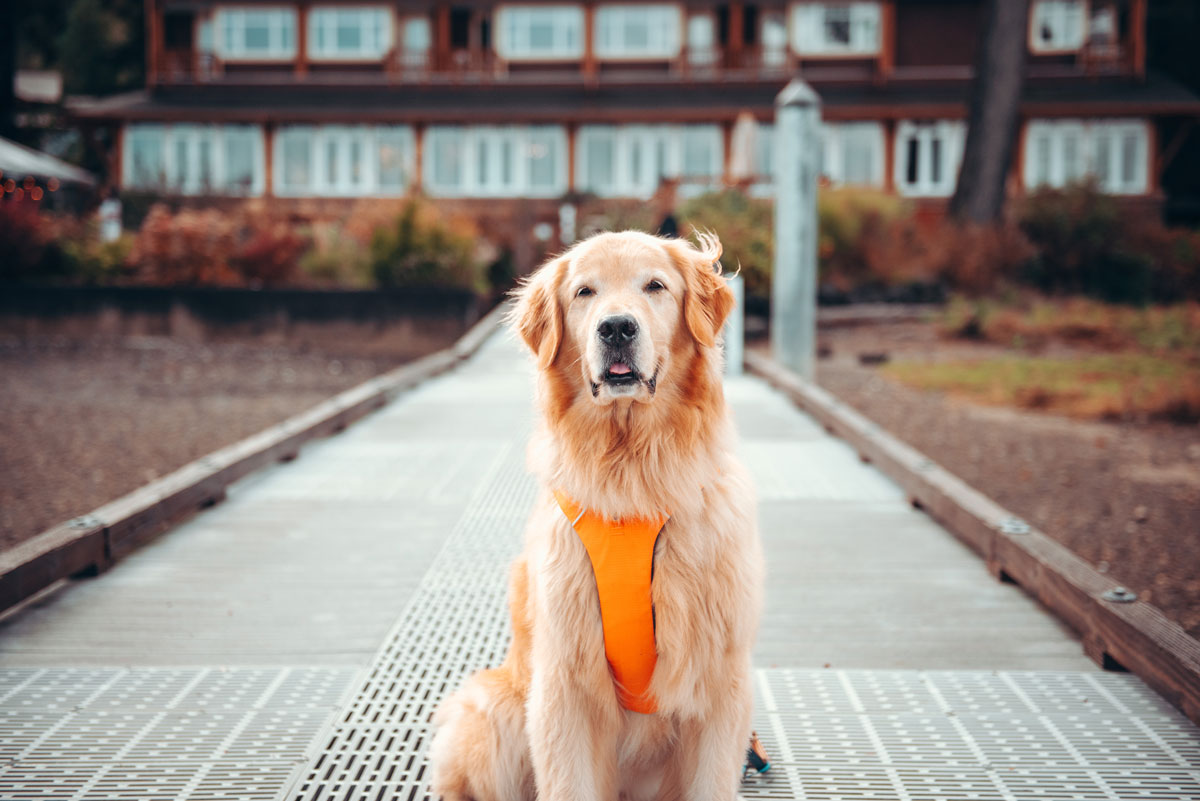 Alderbrook Resort & Spa | Union
Want to feel like you're away from it all? I highly recommend a visit to the Alderbrook lodge located in Union, Washington. Alder and Brook, the hotel's resident house-cats, welcome you and your pets with open paws!
Guests have enjoyed this pet-friendly hotel for many years and the location is just so beautiful! There are a plethora of grassy areas and spots on the property to take in the water views. We've stayed in the lodge, but prefer the cottages if they're available!
The hotel also has a partnership with Olympia-based pet supply company, Mud Bay, which allows them to customize your pet's experience with authentic, locally-sourced amenities such as boutique treats, an Alderbrook dog toy and bandana, and Mud Bay tennis balls and waste bags. Make sure to check out the VIP pet package which can be added on to your stay!
The highlights for me are the private hiking trails owned by the hotel — over 5 miles of serenity! Scout loved running through the forest, but his favorite hotel amenity had to be the doggy in-room dining menu — yes, you heard that right!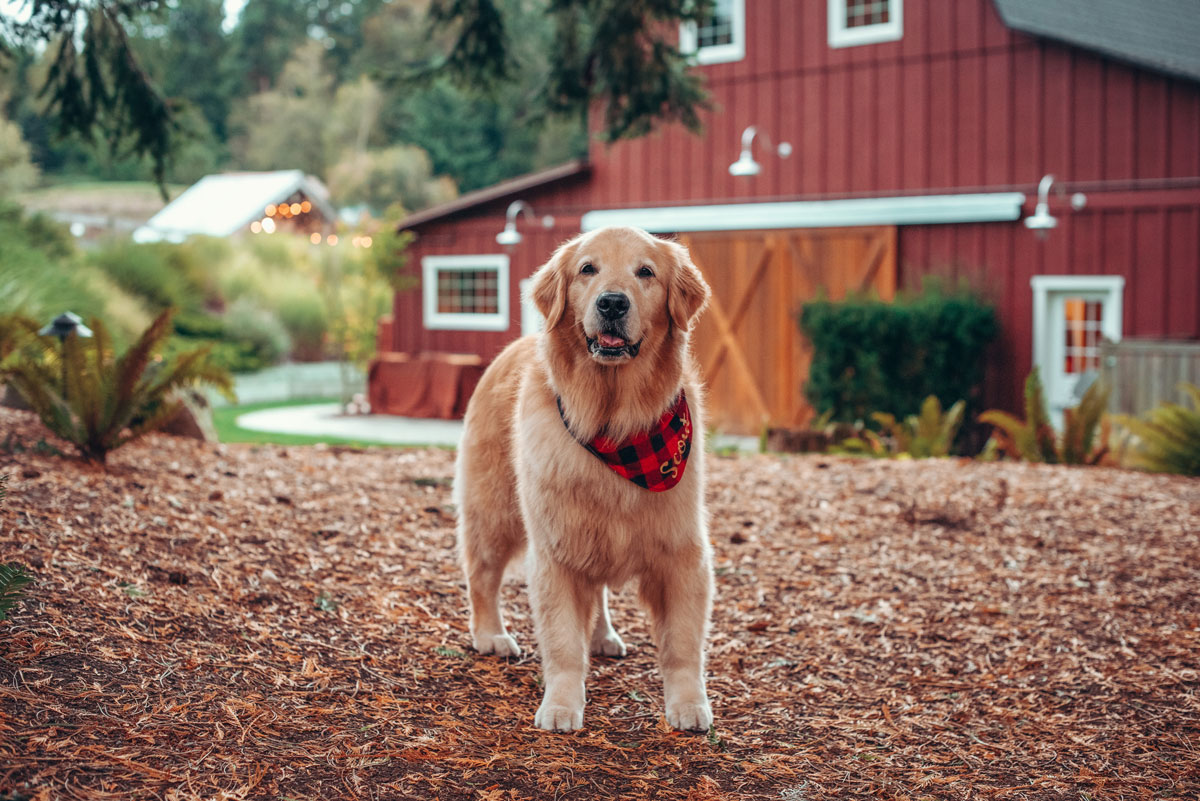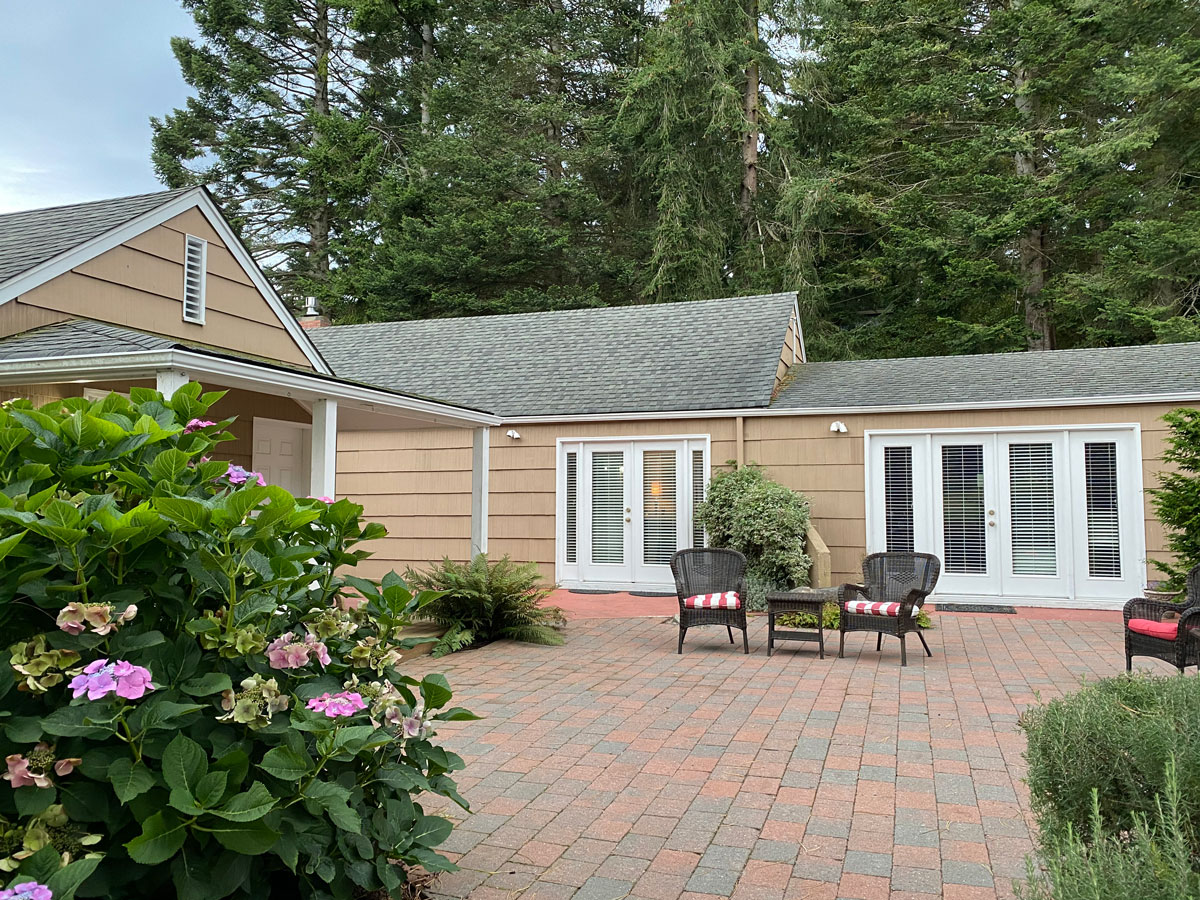 Dancing Fish Vineyard | Whidbey Island
We thoroughly enjoyed our visit to this Airbnb at Dancing Fish Vineyard on Whidbey Island. Located in the Puget Sound, just north of Seattle, Washington, the island's rugged terrain spans beaches, hills and farmland and it has definitely been one of our most memorable stays to date!
Vinyard House 217 is beautiful and was fully stocked with all the necessities — it even had a fenced-in back yard! It's a six-acre paradise! The unique amenities cannot be found anywhere else. You'll find yourself at your very own resort with a tasting room just steps away!
Once closed for the evening, Scout had the whole property to himself! Can you say "freedom"! We cannot recommend this destination highly enough!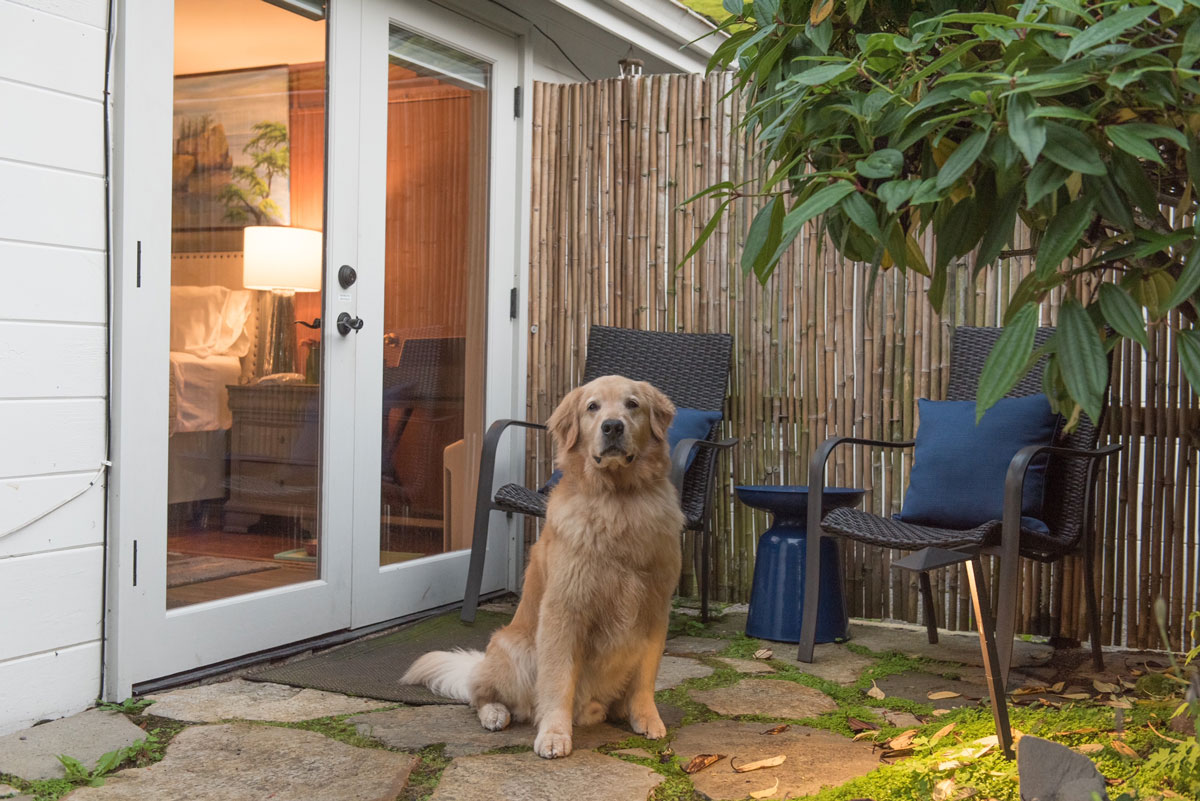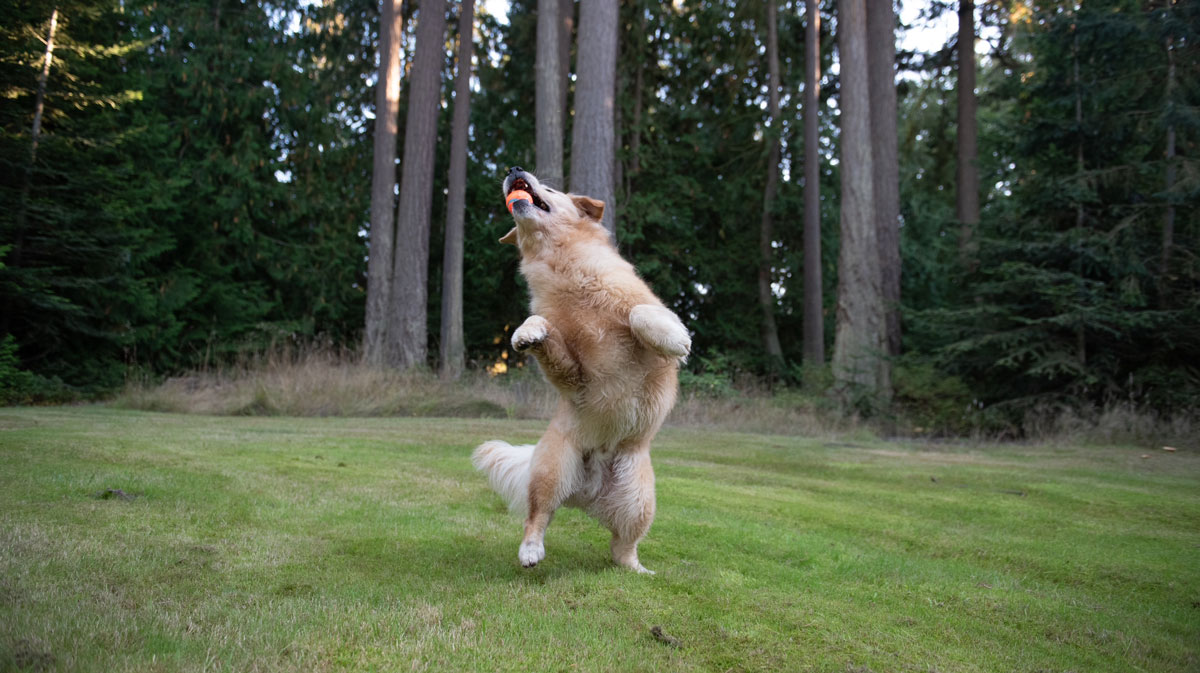 Domaine Madeline | Port Angeles
Domaine Madeline is a hidden gem in Port Angeles, Washington. This bed and breakfast is located on a high bluff overlooking the Strait of Juan de Fuca. It is tucked away in a quiet neighborhood about 20 minutes outside of downtown Port Angeles, WA, which makes it a great base for exploring the Olympic National Park.
I promise you'll relax as soon as the bamboo gate opens to invite you in. The location is peaceful, serene and so incredibly relaxing. The highlight was the private fenced-in dog park located on the property! This is the first place we've ever stayed that's offered this amenity, and wow — I wish all hotels would follow suit!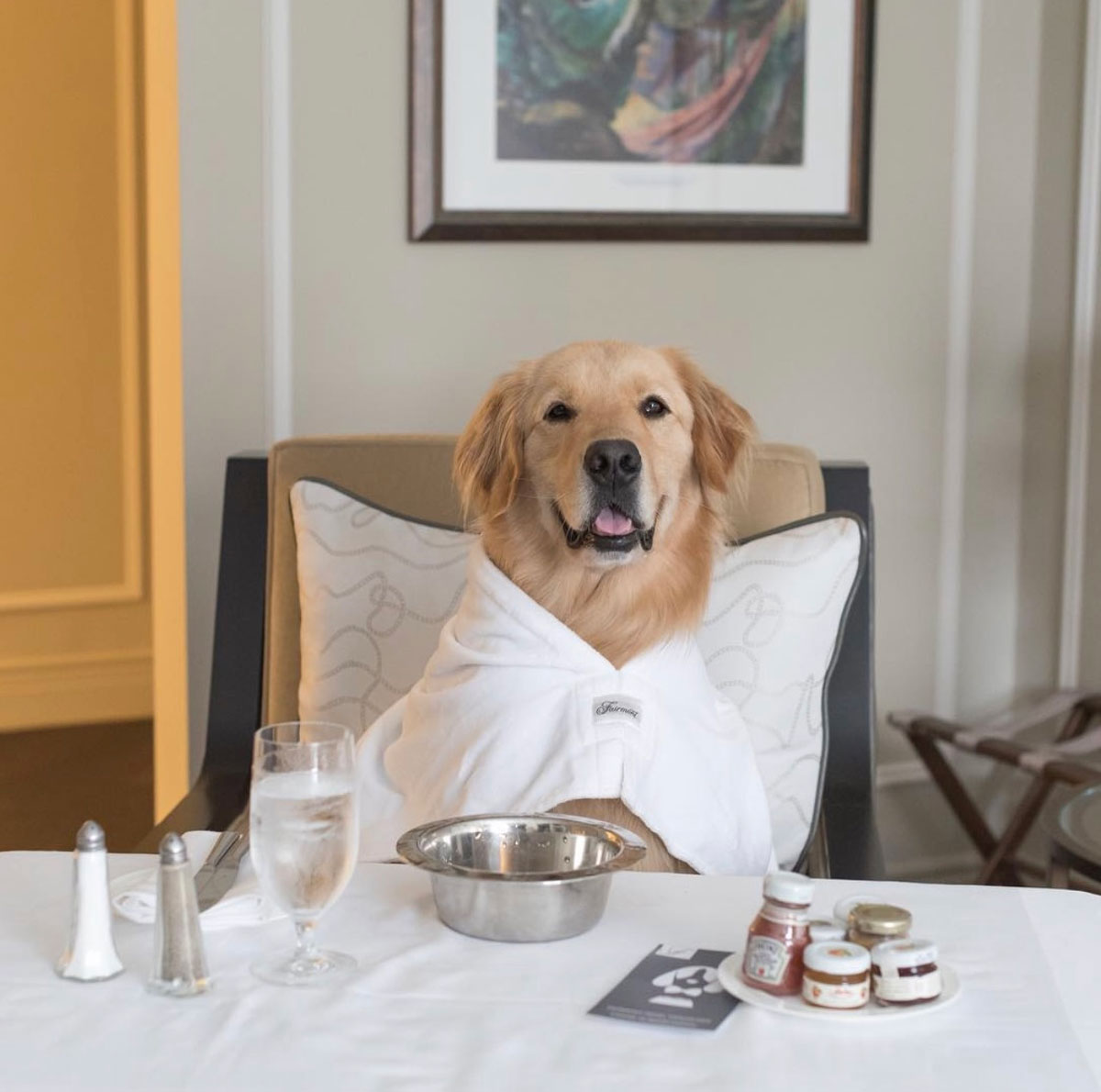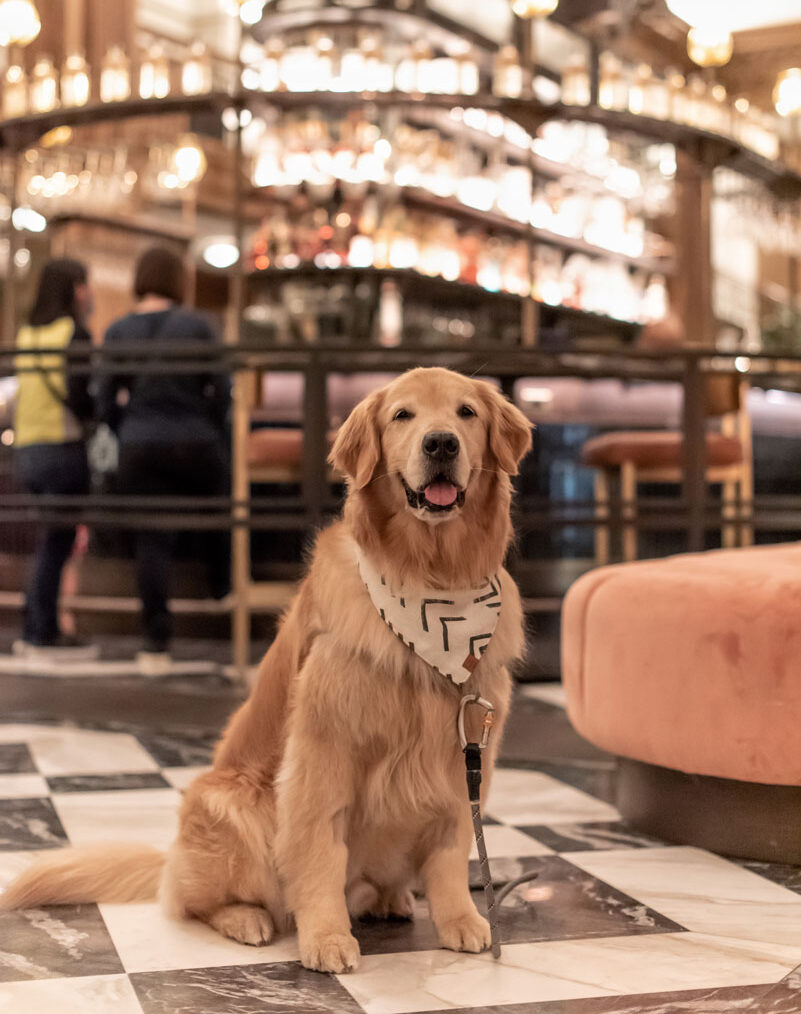 Fairmont Olympic Hotel | Seattle
The Fairmont Olympic hotel in the heart of Seattle has been a place where Scout and I so enjoyed being pampered! The staff is so kind and loves furry visitors.
We loved hanging out in the gorgeous, newly renovated lobby, making conversation with other guests, and Scout loved sitting at the bar with me.
Let the front desk know you'll be bringing your furry family member along and you'll be provided with food and water bowls and a bed for your pup. Insider's tip: You can also ask the chef to cook up some chicken or steak to have delivered to your room if you feel like dining in!
One of the things we love about this hotel is that they have a patch of artificial turf right out front for those late night potty breaks.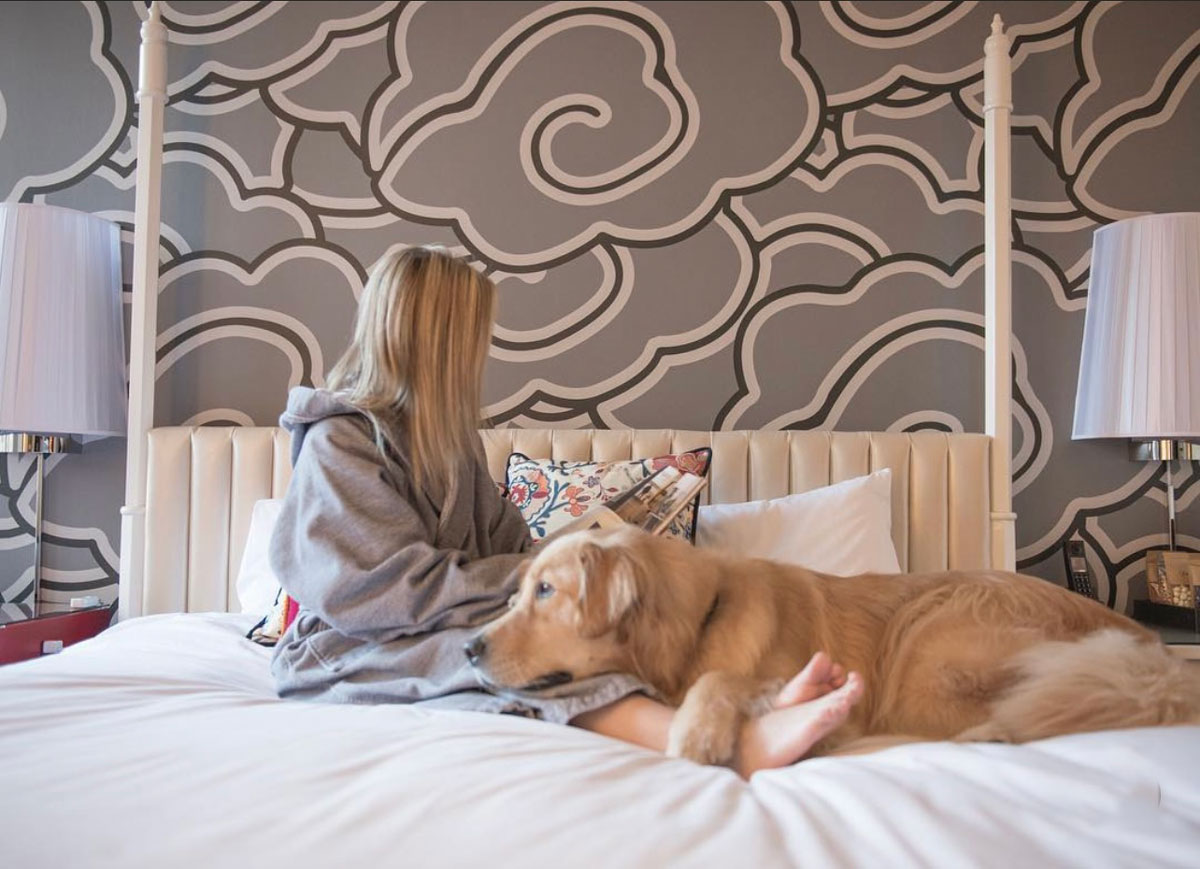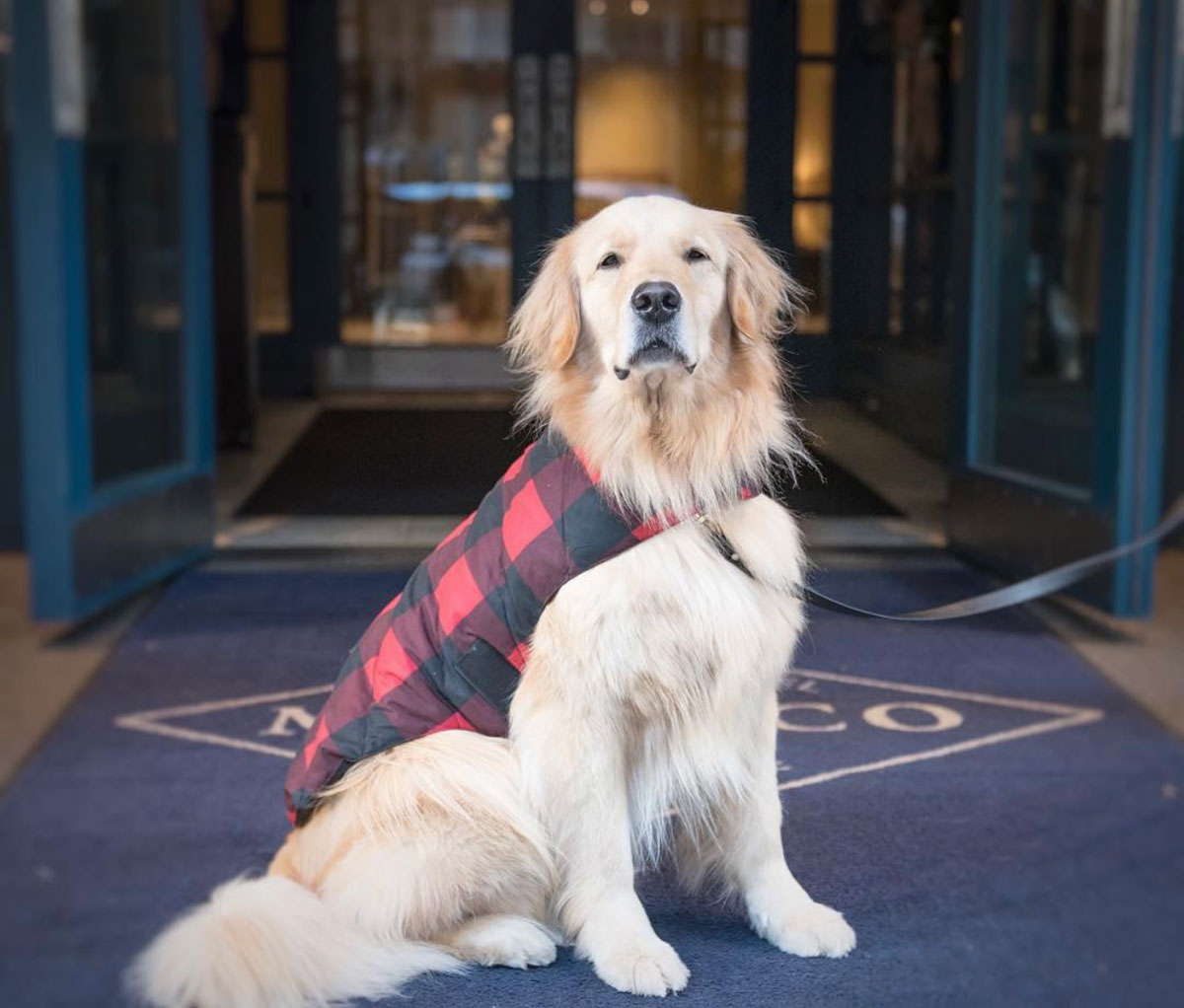 Kimpton Hotel Monaco | Seattle
The Kimpton Hotel Monaco is located in the heart of Seattle. One of the most pet-friendly hotels we've ever stayed at. They welcome your dog and other furry friends with open arms! As their website states:
"Any friend of yours is a friend of ours, even the four-legged ones. That's why we have no size or weight restrictions on pets, and — yes, this is really true — charge no extra fee. Whether furry, feathered, or feline, your animal is part of the gang, and as a perk of dog-friendly hotels, Seattle welcomes him or her with food and water bowls, a pet bed placed in your room, a bottle of spring water and treats, and disposable pickup bags."
They even have a pet-friendly in-room dining menu direct from Outlier, the hotel's upscale restaurant! Scout was a huge fan of the pupsicle! The hotel also recently partnered with Wag, so they can arrange dog sitters and dog walkers if needed!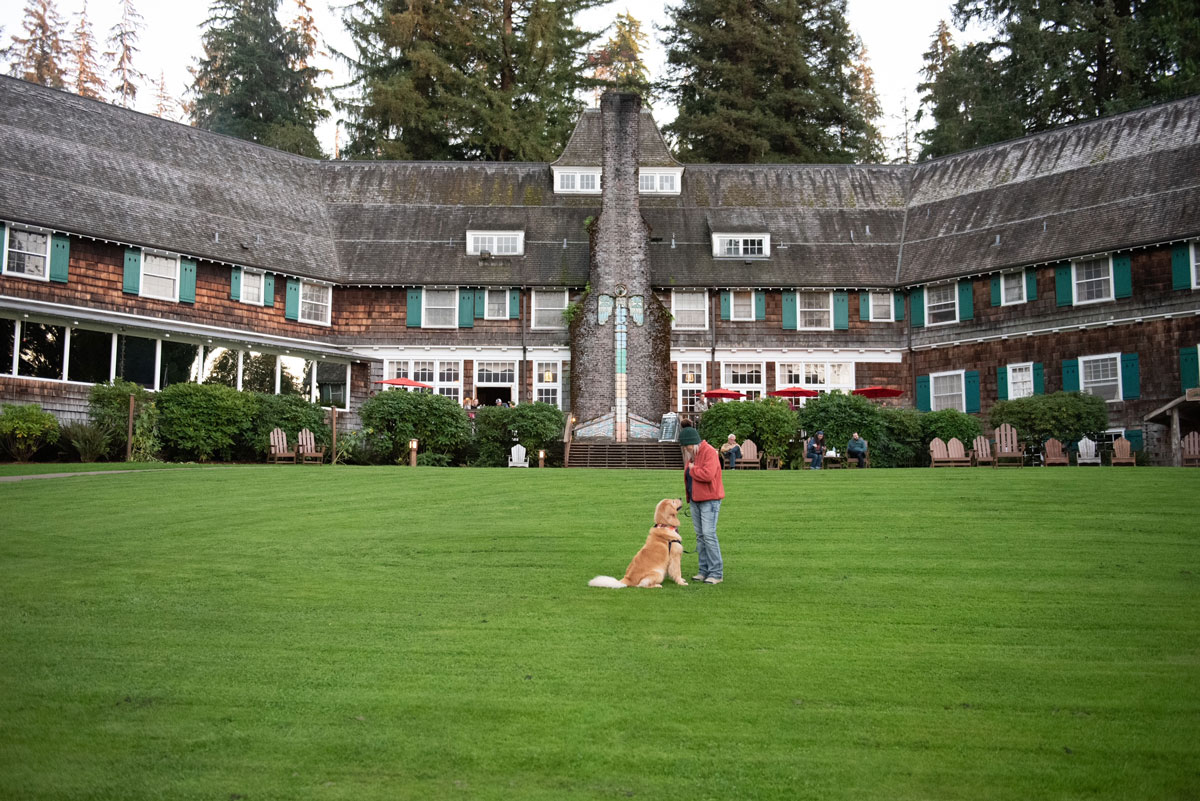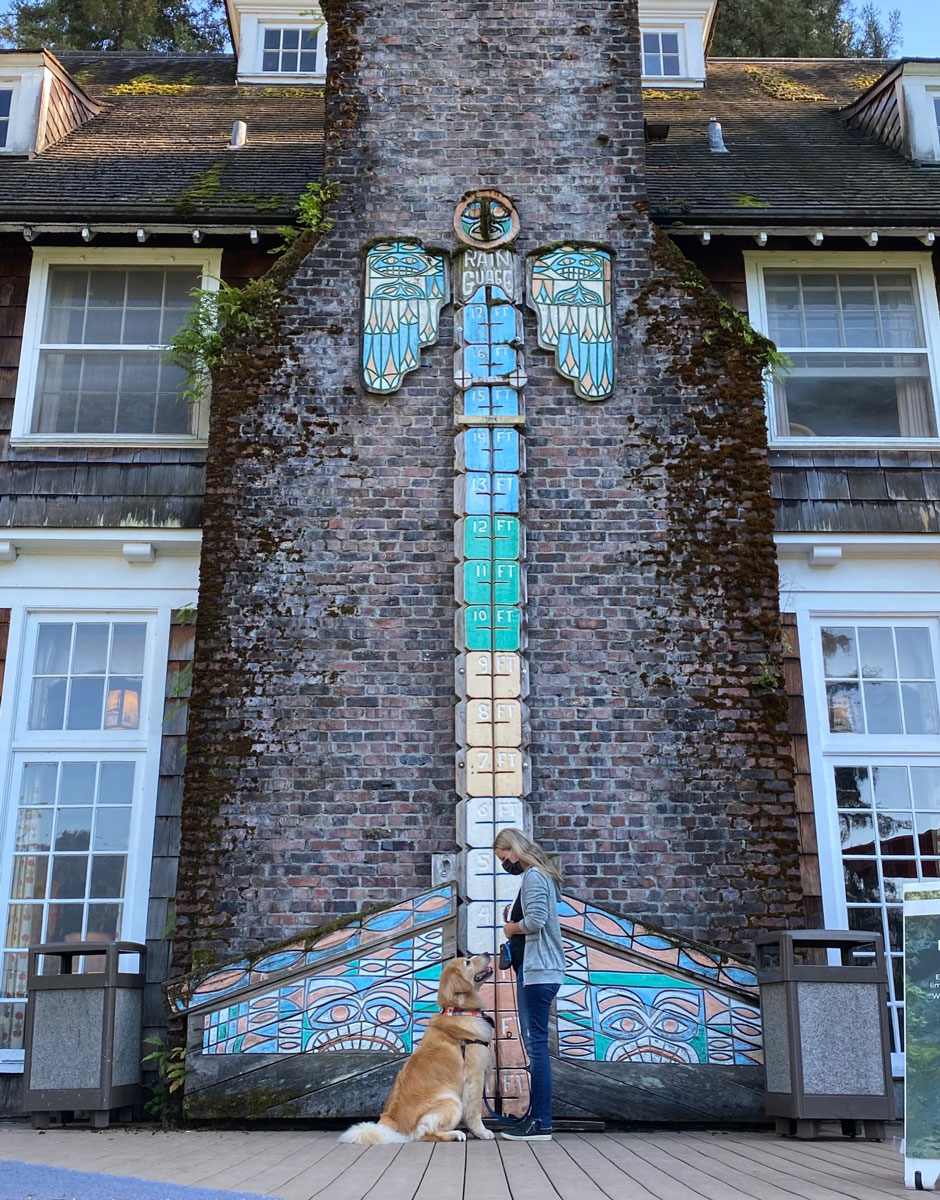 Lake Quinault Lodge | Olympic National Park
Surrounded by the beauty of the Olympic National Forest, Lake Quinault Lodge is a rustic, resort hotel built in 1926 in the grand tradition. It's the perfect spot for unplugging, recharging and exploring the Olympic Peninsula.
Cell service and internet are spotty here — and I'll be honest, it felt a bit odd at first — but I slowly got the hang of it. Take out a kayak, watch the sunset from the pier, roast some marshmallows over the community fire pit or just walk the resort with your pup. 
Our room in the boathouse had beautiful views of the lodge and water. Dog beds and bowls were provided. 
The nearby Olympic National Park doesn't allow dogs on the trails and restricts them to the areas surrounding the parking lots, but the Olympic National Forest that borders the hotel grounds has over 250 miles of dog-friendly trails. Stop into the Pacific Ranger Station located next door to the lodge for hiking maps and guidelines for dogs in the forest. There are a variety of trails that you can access right from the lodge.
Depending on how far you want to hike, you can take a short hike to the World's Largest Sitka Spruce Tree or the longer Quinault Loop Trail. We hiked one trail that was directly across from the lobby!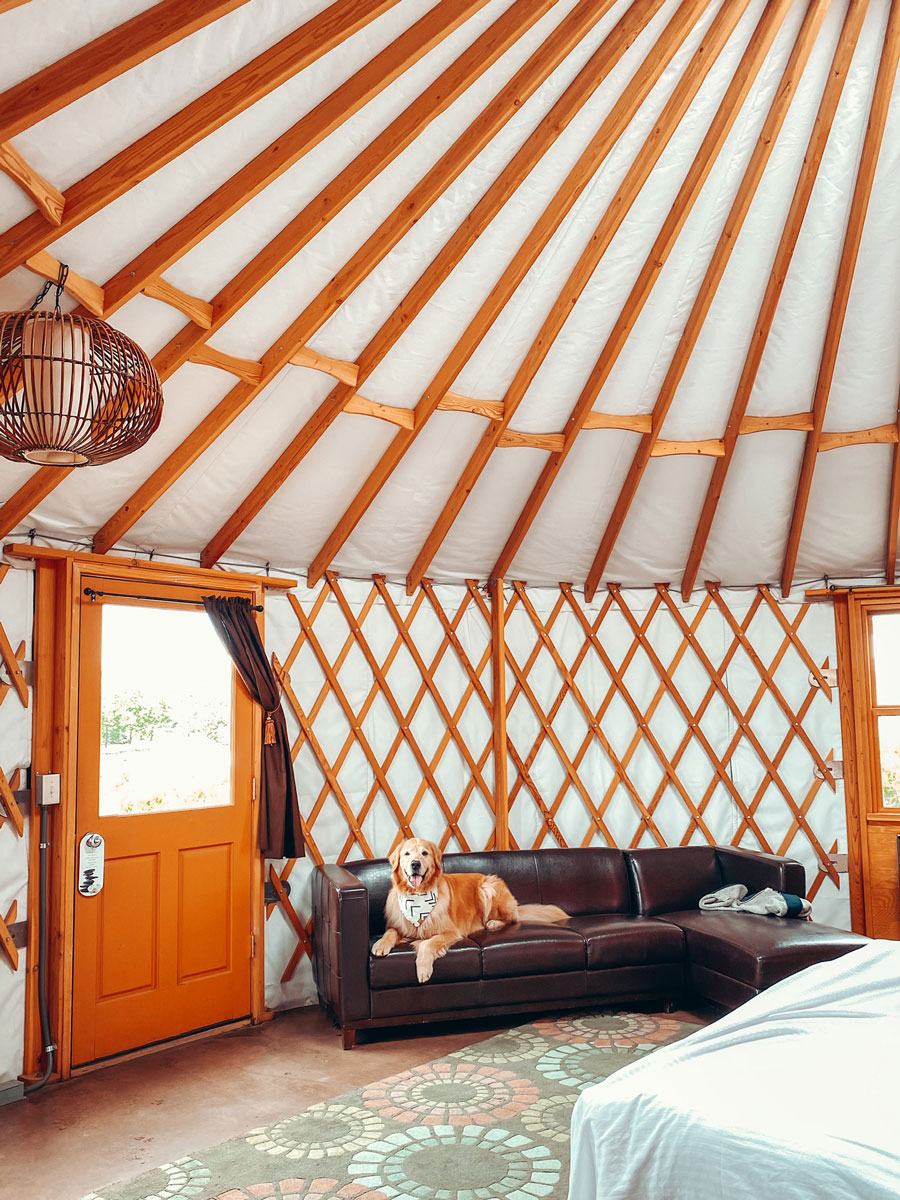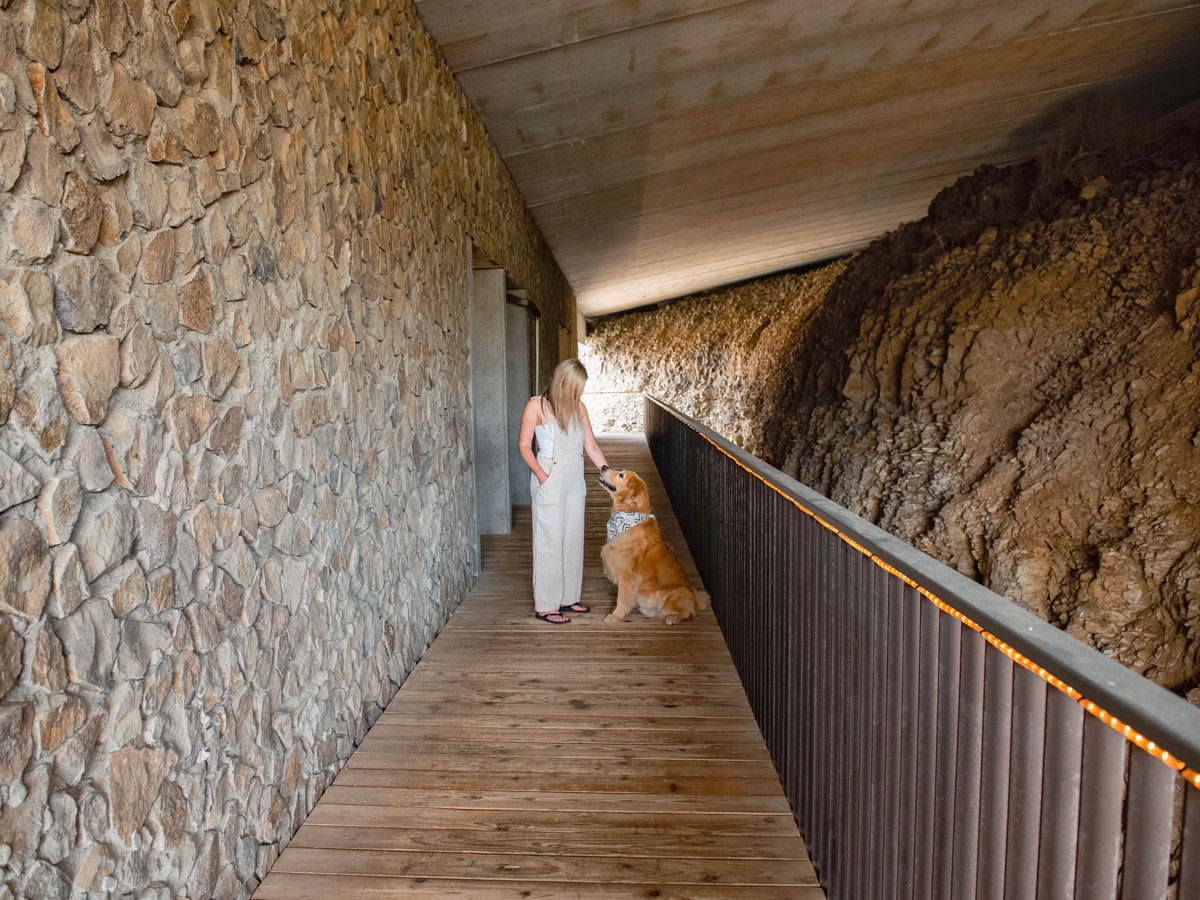 Sagecliffe Resort and Spa | Quincy
Sagecliffe Resort and Spa (formerly Cave B, recently under new ownership), located in Quincy, Washington, is set amidst the stunning backdrop of the Columbia River Gorge and next to the Gorge Amphitheater.
The entire property is just gorgeous and the views are breathtaking. The cavern rooms, yerts and some of the condos are pet-friendly.
We stayed in one of the cavern rooms with a beautiful view over the Colombia River. Scout loved hanging out on the patio, walking the grounds and watching out for the woodchucks!
Our stay was quiet, relaxing and very memorable.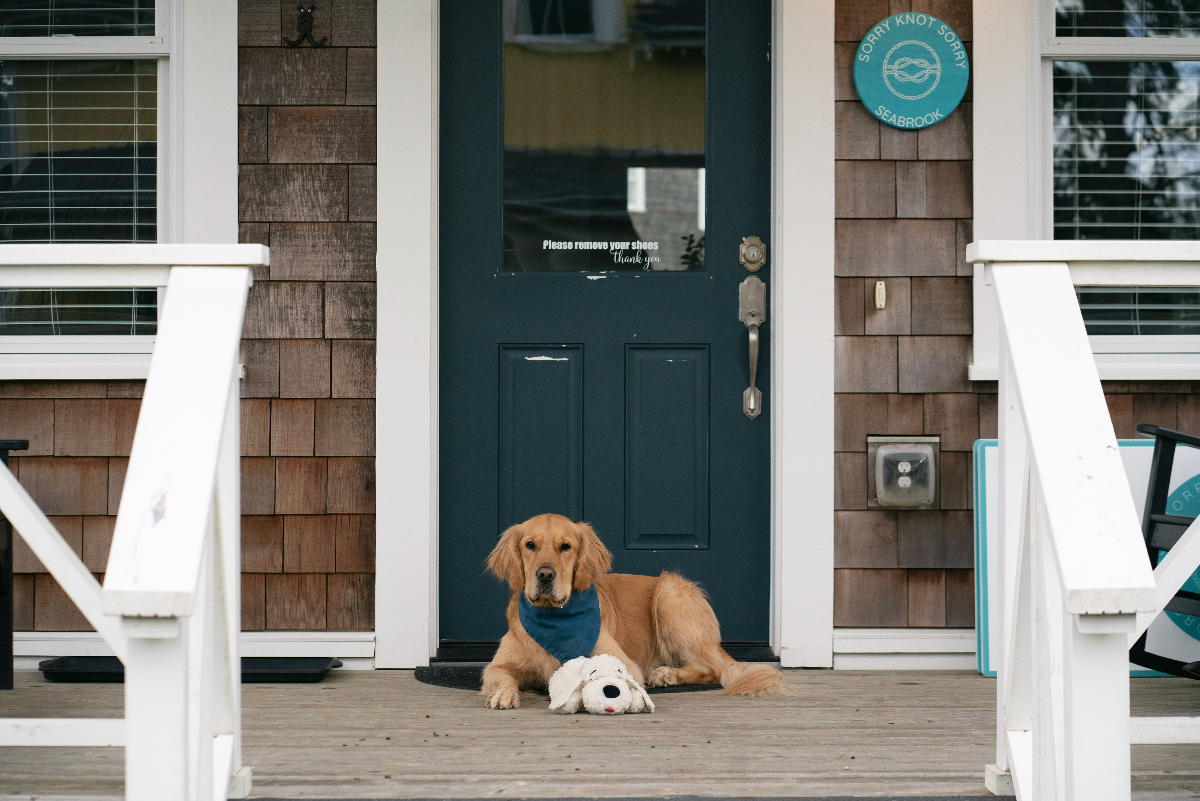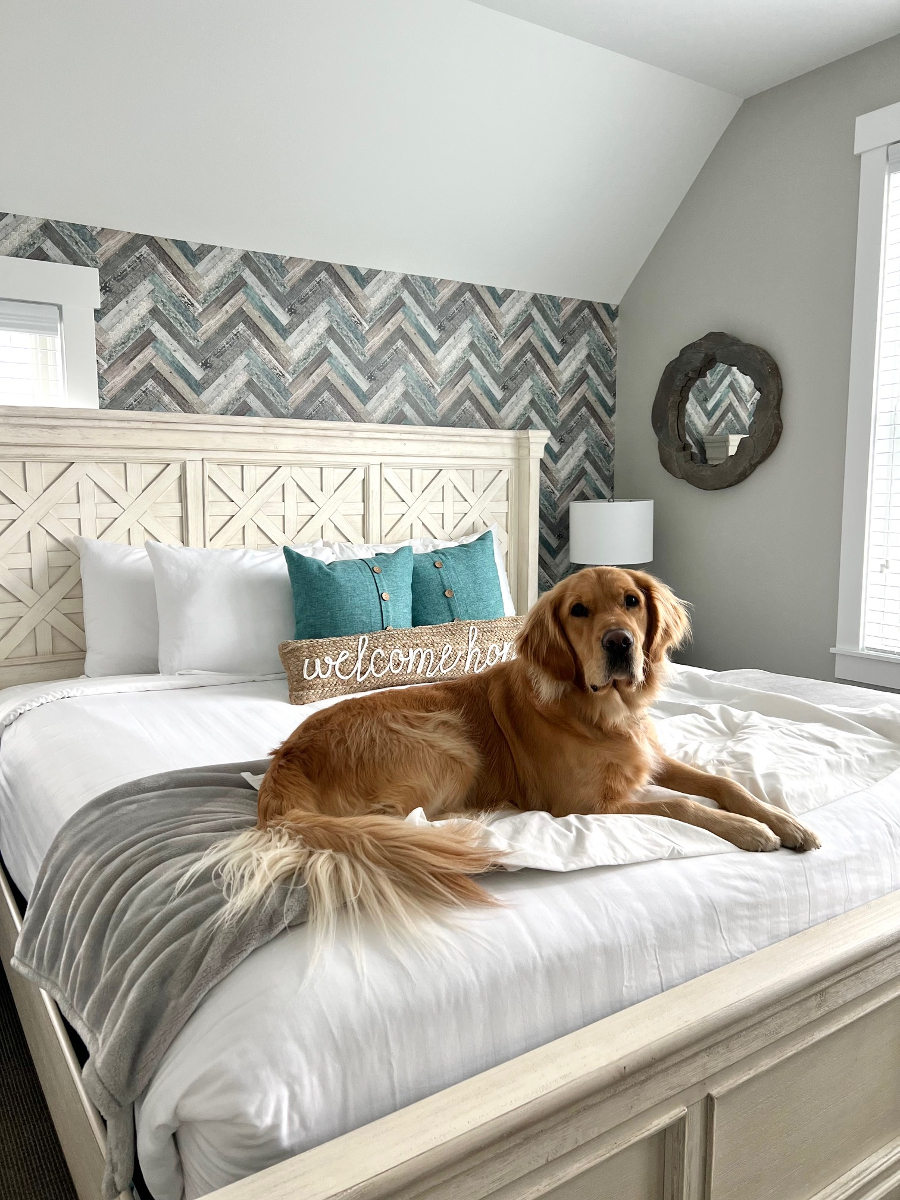 Sorry Knot Sorry | Seabrook
Sorry Knot Sorry is a cozy two bedroom, dog-friendly farmhouse located in the community of Seabrook on the Washington Coast.
Archie and I were welcomed into the home with a doggy amenity bag and a container full of treats. We also thoroughly enjoyed the tennis balls in the closet for an impromptu game of fetch, complimentary doggy bowls for food and water, fenced in yard — and absolutely loved the detachable indoor shower head available to wash Archie after a long day of frolicking on the beach.
Sorry Knot Sorry's proximity to the dog park and numerous walking trails was also such a nice perk!
We hope you enjoy this pet-friendly rental as much as we did!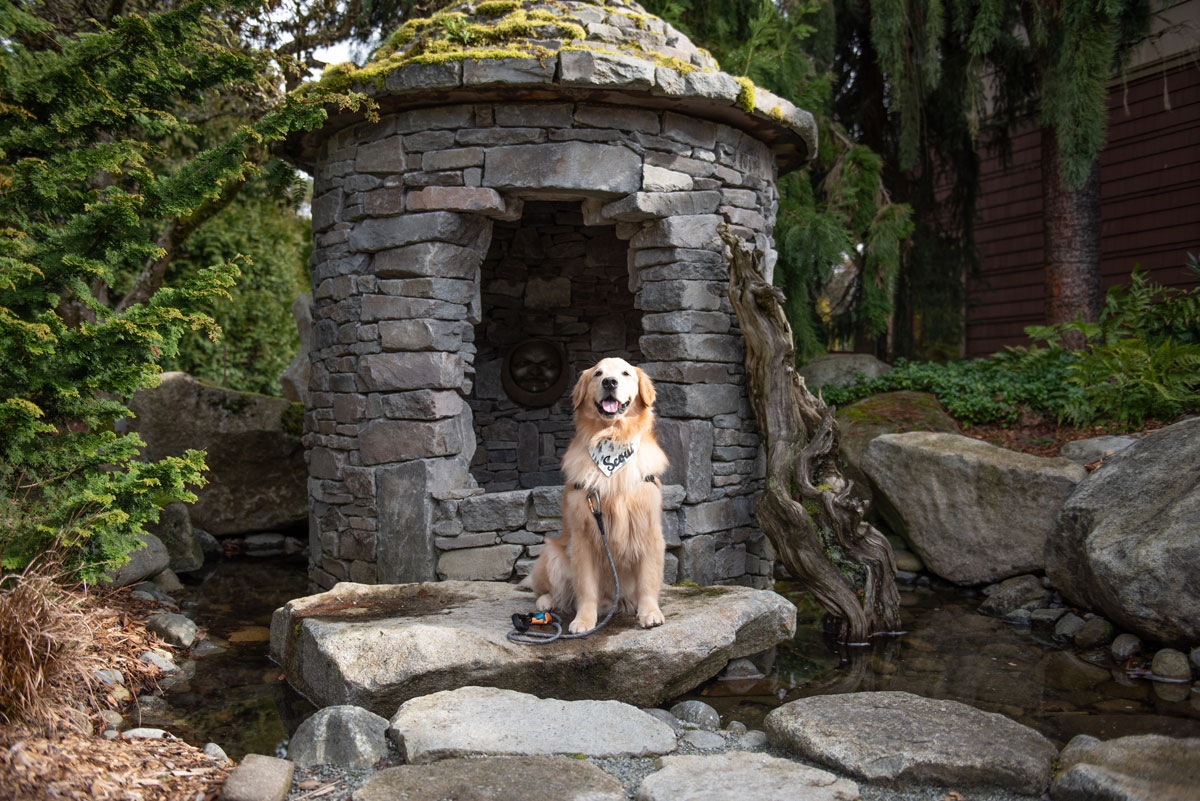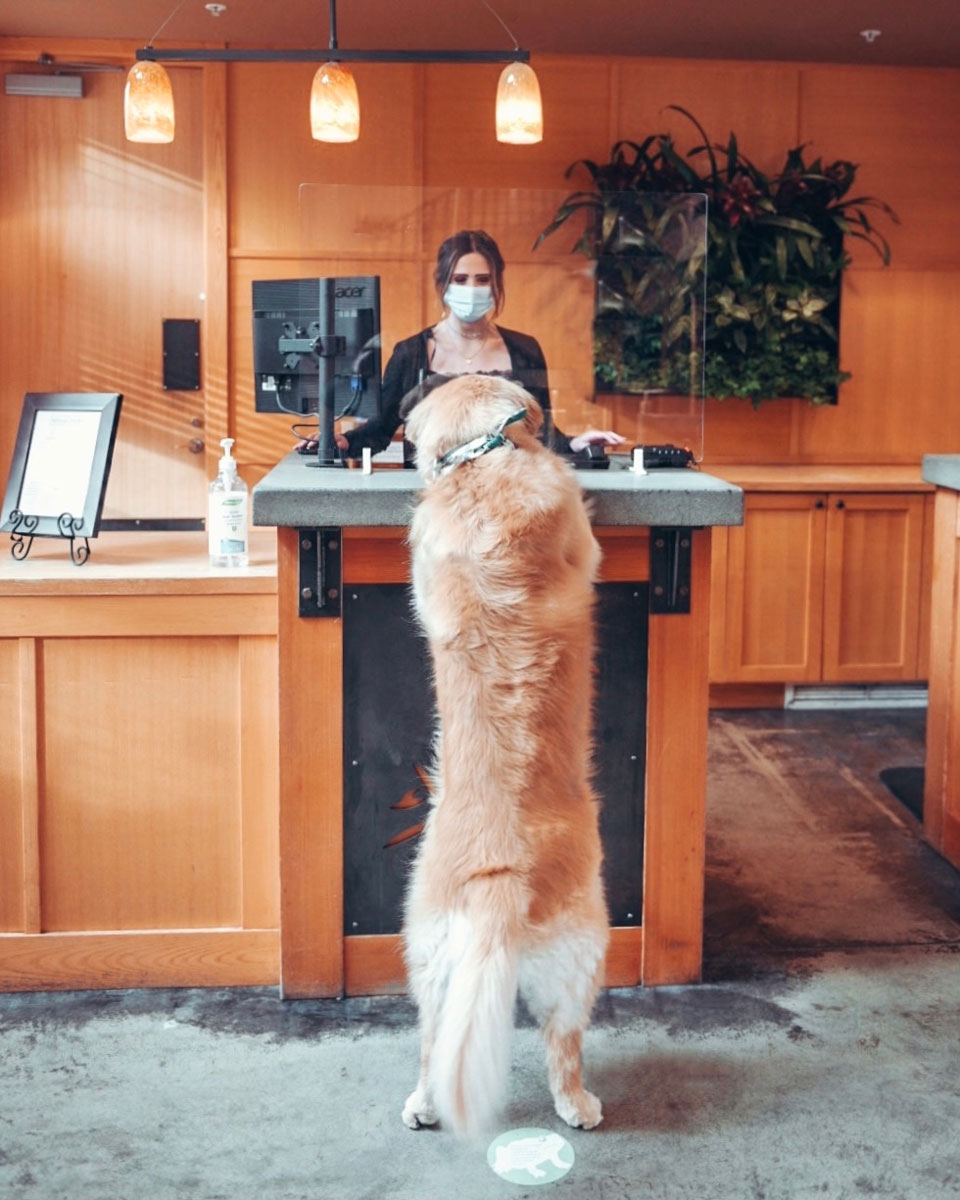 Willows Lodge | Woodinville
Willows Lodge, located in Washington state's wine country just outside of Seattle, is a perfect destination for sipping wine, walks in nature, fine dining and breweries.
The property is beautiful and so serene. There are many walking paths and conveniently placed pet waste stations throughout the property.
This place is truly special and one of our favorites. Not only do you feel pampered, but the WVIP (Willows' Very Important Pet) program ensures that your pup feels pampered, too!
Scout was welcomed with a personalized welcome card, biodegradable waste bags, bottled water, doggy biscuits and his very own bed!
One of the things that I found unique about this hotel is that quiet, well-behaved dogs may be left unattended in the rooms. I prefer to have my pup join me, but it was nice to be able to enjoy dinner at the property with my husband and not worry about what to do with Scout.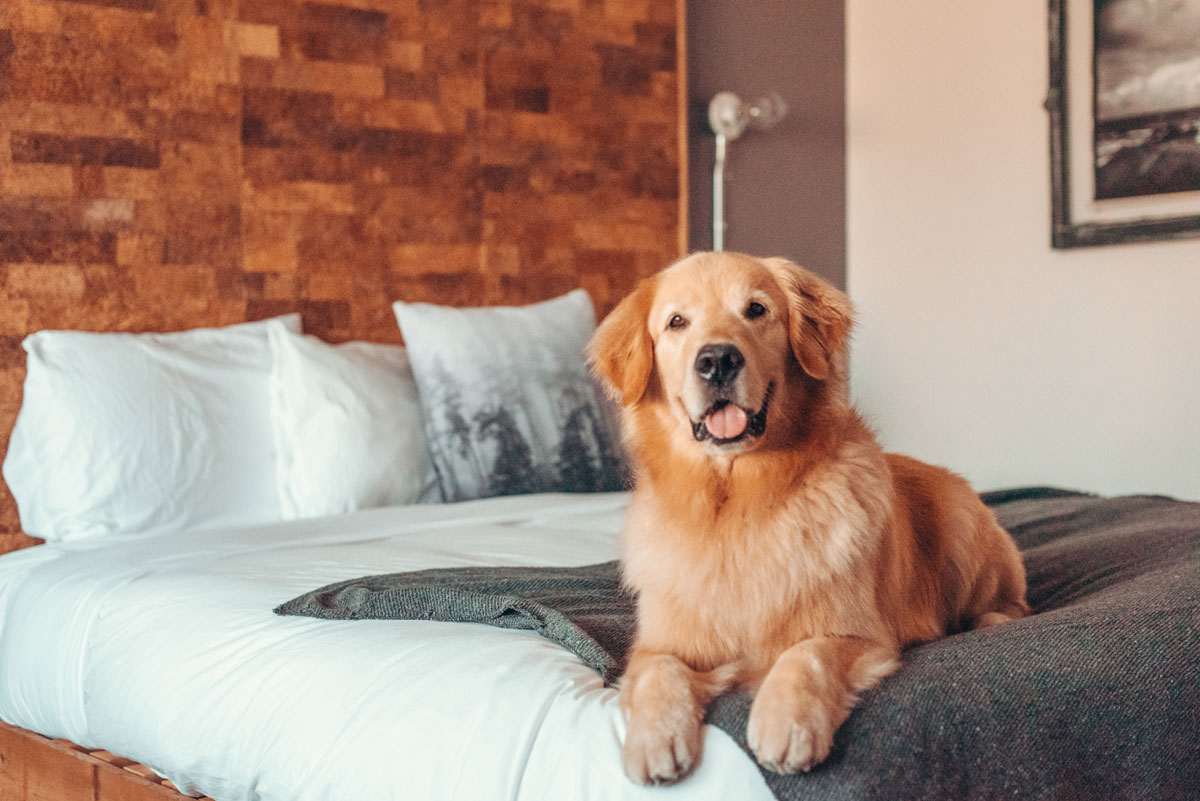 Adrift Hotel | Long Beach
Adrift Hotel in Long Beach, Washington, is one of the stops on #scoutsroute. This pet-friendly hotel has a quirky, artsy, mid-century modern feel with minimalist, yet comfortable rooms. Pups can be left unattended in the room, so you can enjoy the spa and sauna — or pups can sit by the pool with their human!
Our favorite thing about this hotel is the accessibility to the miles and miles of beachfront and walking paths for your pups. (Please keep in mind this beach is car accessible.)
Own a hotel or vacation home?
Want to become a top destination for discerning doggy-travelers?
Book a FREE consultation to find out how you can join our list of #pawtasticstays!