We've been wanting to do a trip to Coeur d'Alene, Idaho for quite some time now and we were finally able to fit it into our schedule.
The trip takes approximately 6 hours from Portland, so we decided to stay in the Tri-Cities area to break up the driving. In today's blog, I'm going to share some of our pawtastic, dog-friendly finds!
Here are some of our favorite spots:
McEuen Park
This beautiful park boasts the city's largest playground, a colorful splash pad, tennis/pickle ball court, basketball court, off-leash dog park, the sea wall overlook, grand plaza, Veterans Memorial, and a 4-acre grassy area with plenty of room to hold events for up to 5,000 people. McEuen Park also hosts a boat launch, mooring facilities and a trail head for Tubbs Hill nature area. Centennial Trail — the 60 mile trail that begins at Nine Mile Falls, Washington, and ends at Higgins Point on Coeur d'Alene Lake — also runs right through the middle of McEuen Park.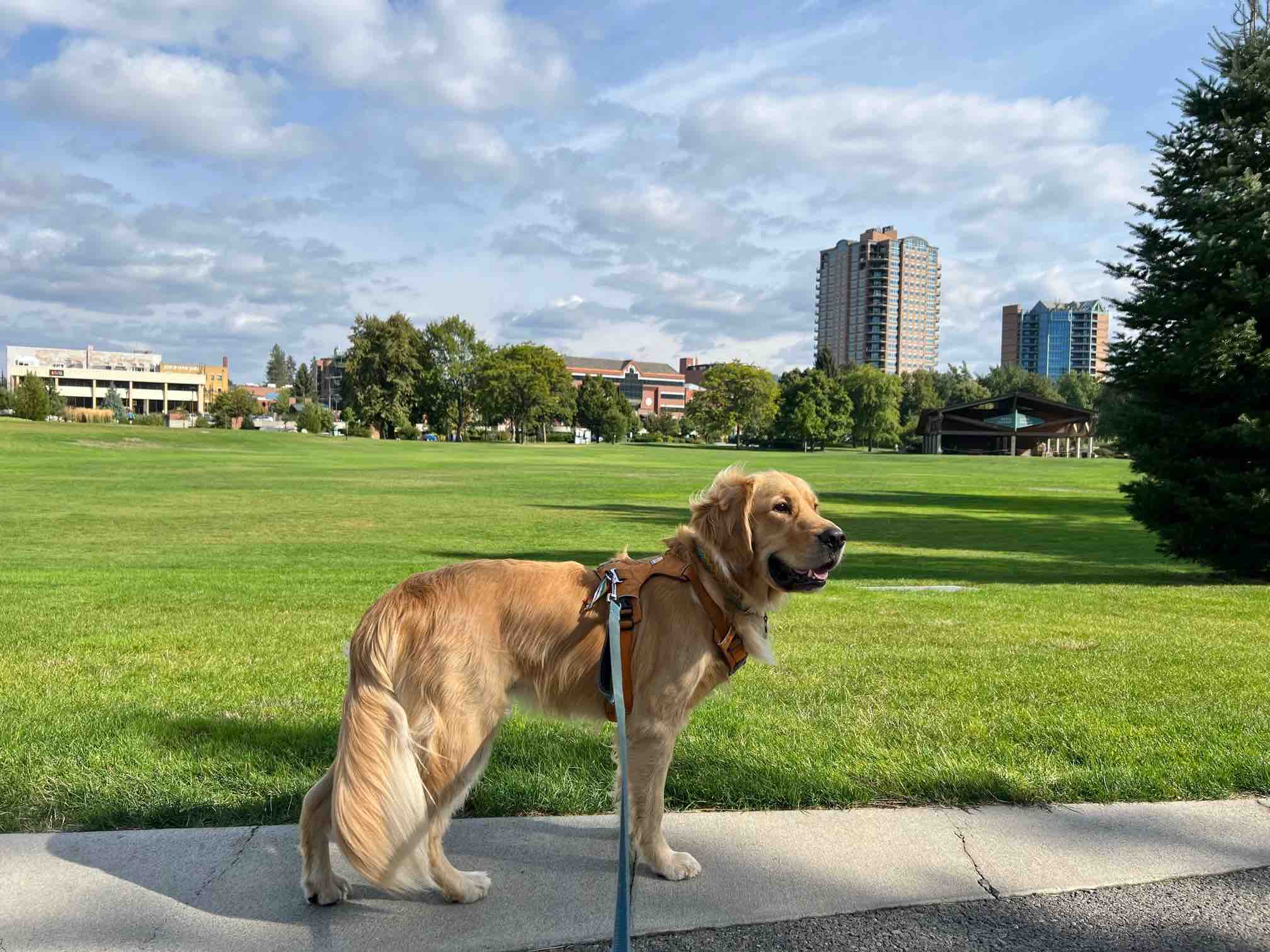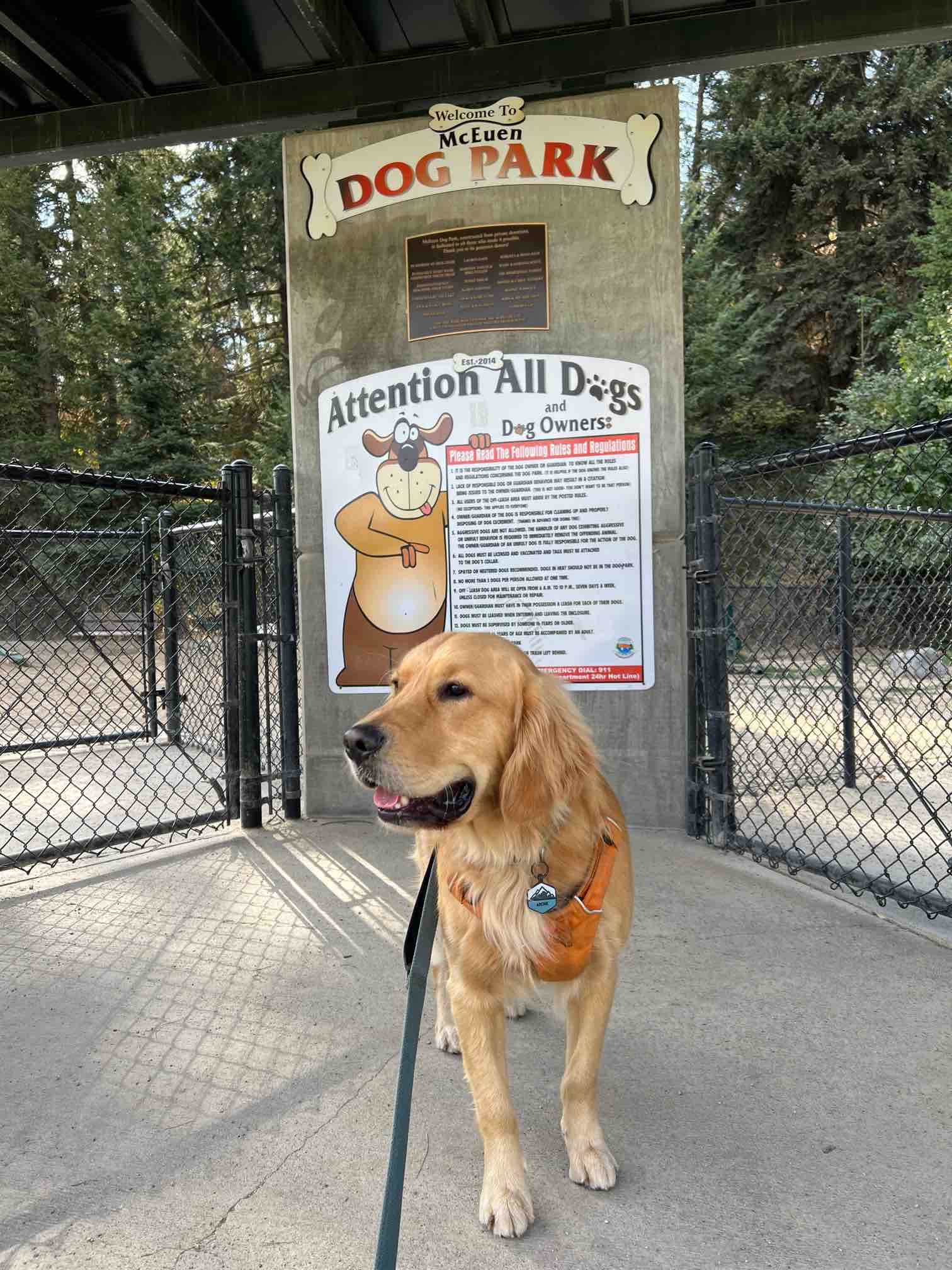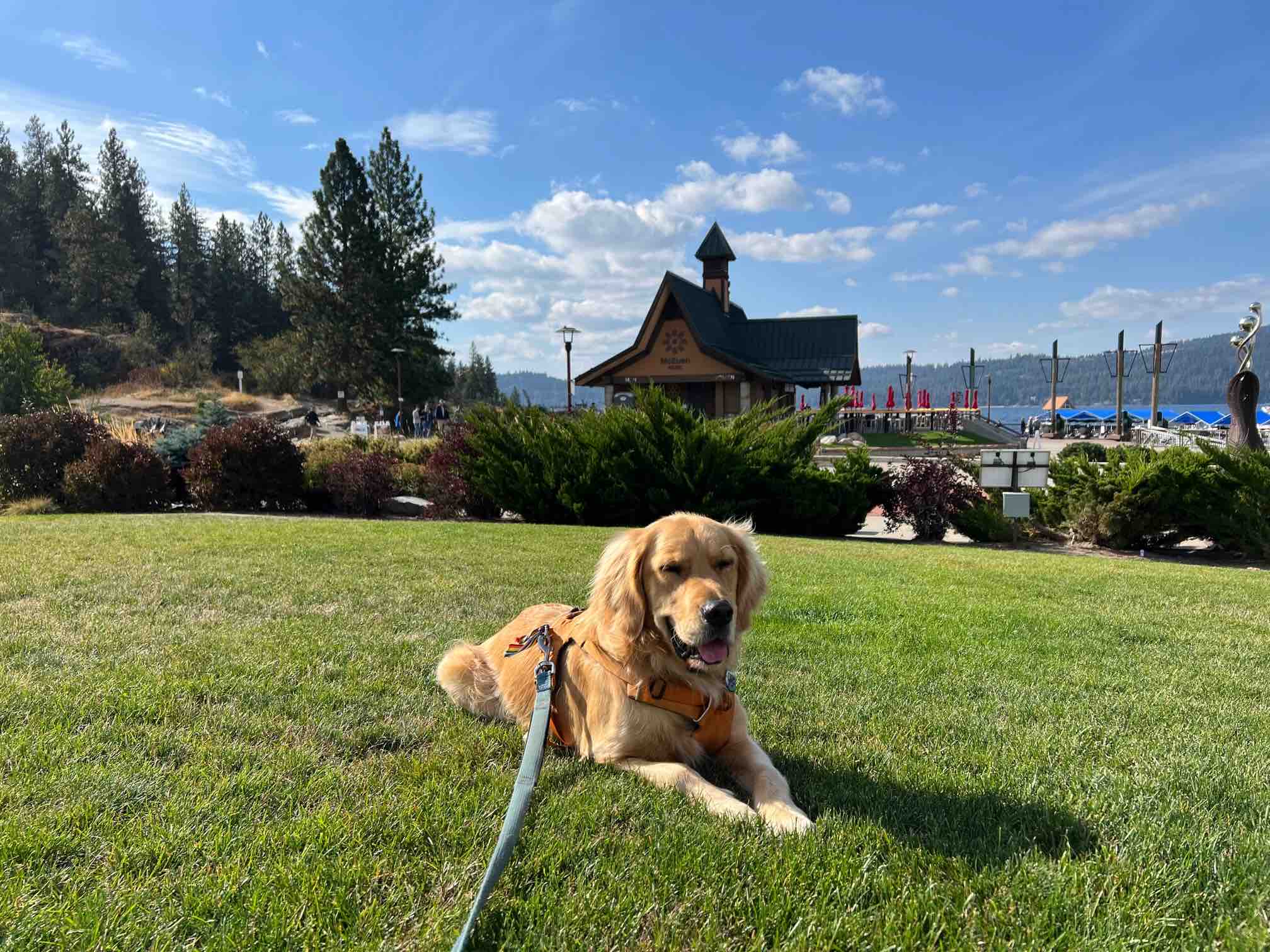 Mudgy Moose Trail
Take your dog on a walk in search of Mudgy Moose! There are five bronze statues of Mudgy the Moose in the city and they can be found along the Mudgy Moose Trail! It is a 2.25 mile trail that follows the path of the main character of the children's book, Mudgy & Millie, that's also set in downtown Coeur d'Alene! Archie found one at the start of the Tubbs Hill Trail!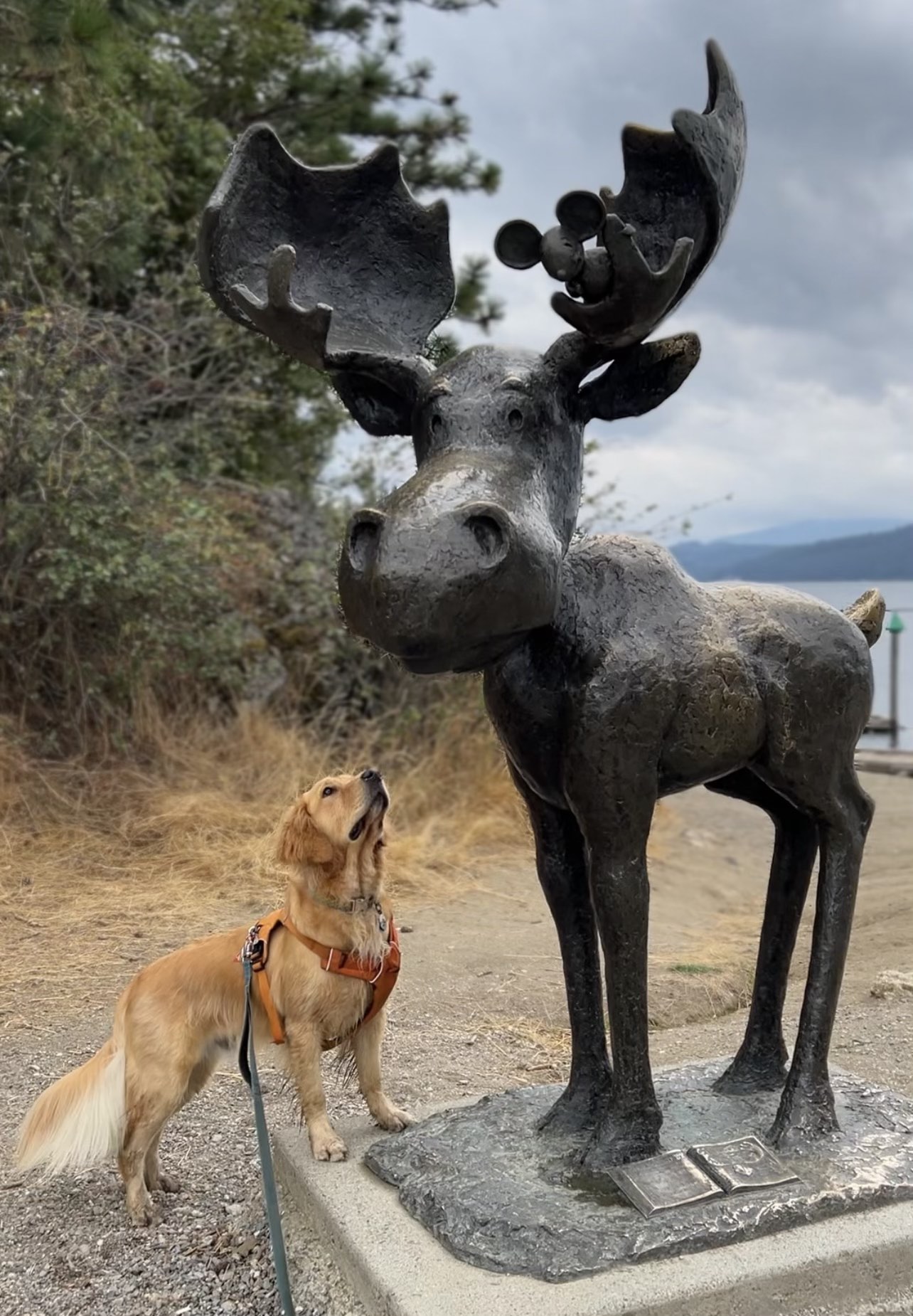 Tubbs Hill
We were so happy to find this hike! It was located only about 10 minutes walk from our accommodations. Tubbs Hill is a 120-acre nature area in Coeur d'Alene, Idaho. Leashed pets are permitted throughout Tubbs Hill. A two mile historical loop trail outlines the perimeter. The trail features historic points of interest along with breathtaking scenery. The hike took us about 2 hours. Although this trail is mostly flat for the first mile, the trail is narrow, dirt, and has many obstacles such as rocks and roots. Smaller trails lead down to the lake where dogs can frolic in the water near small beaches. Archie loved the fresh, cool water!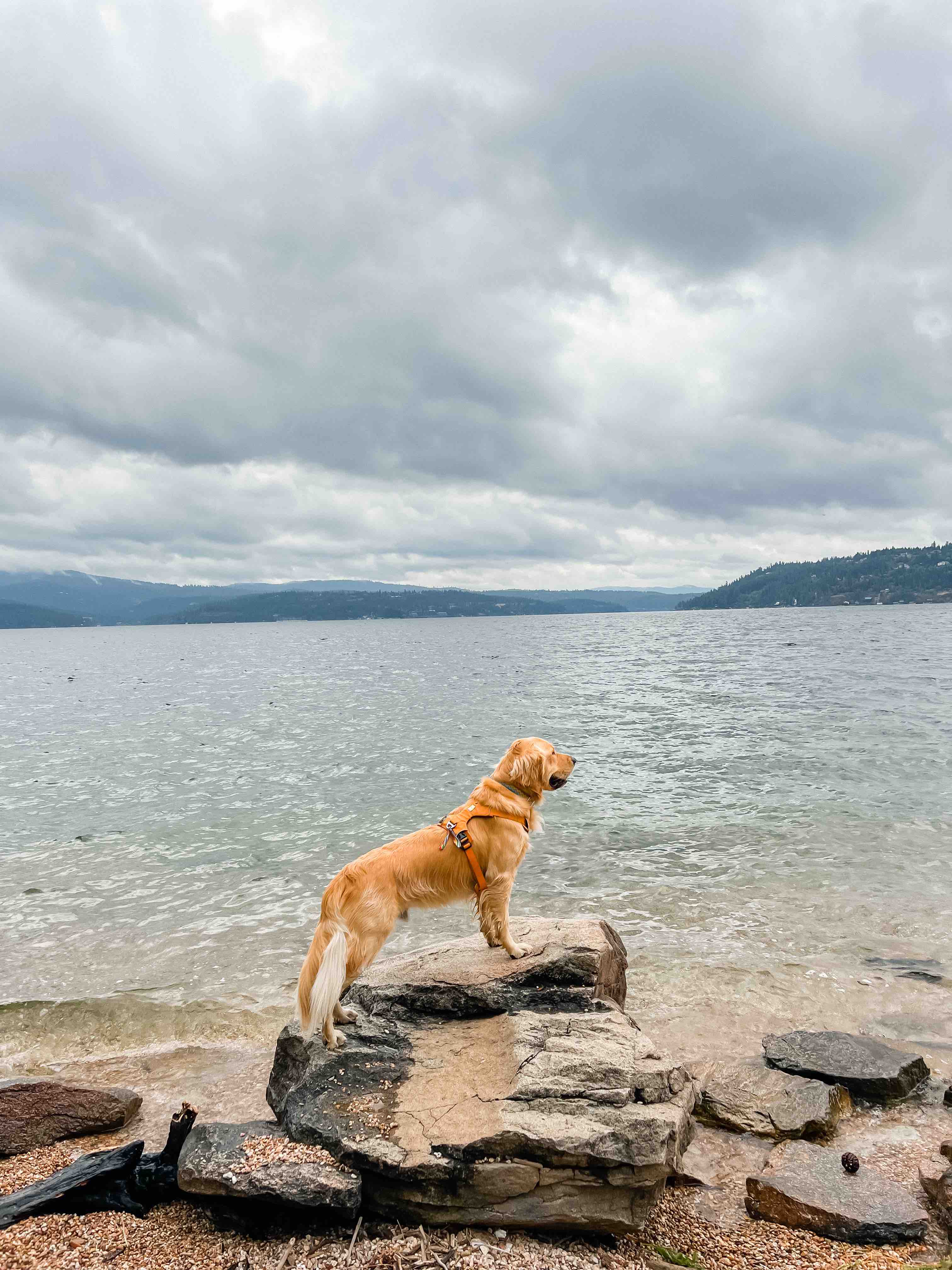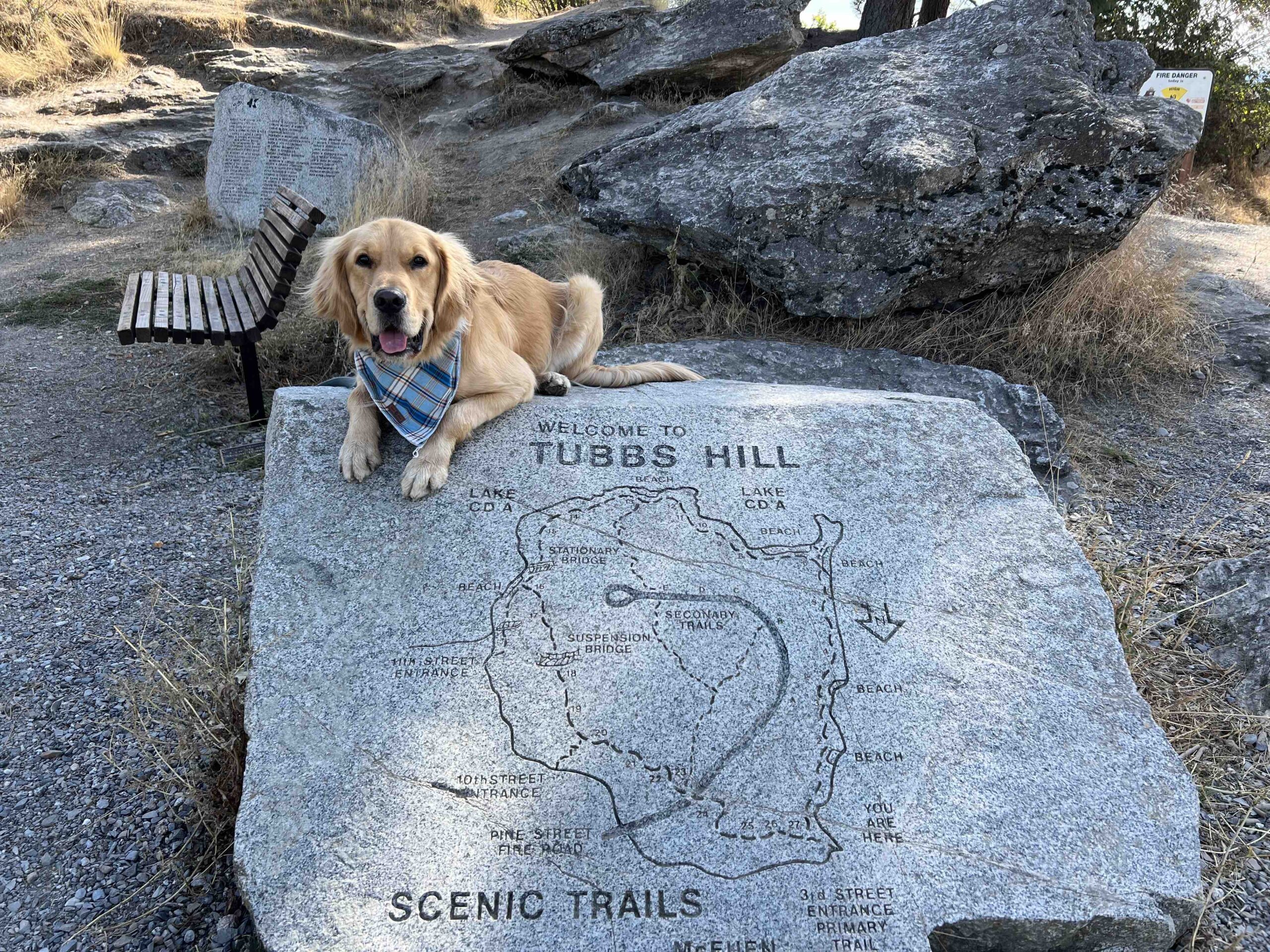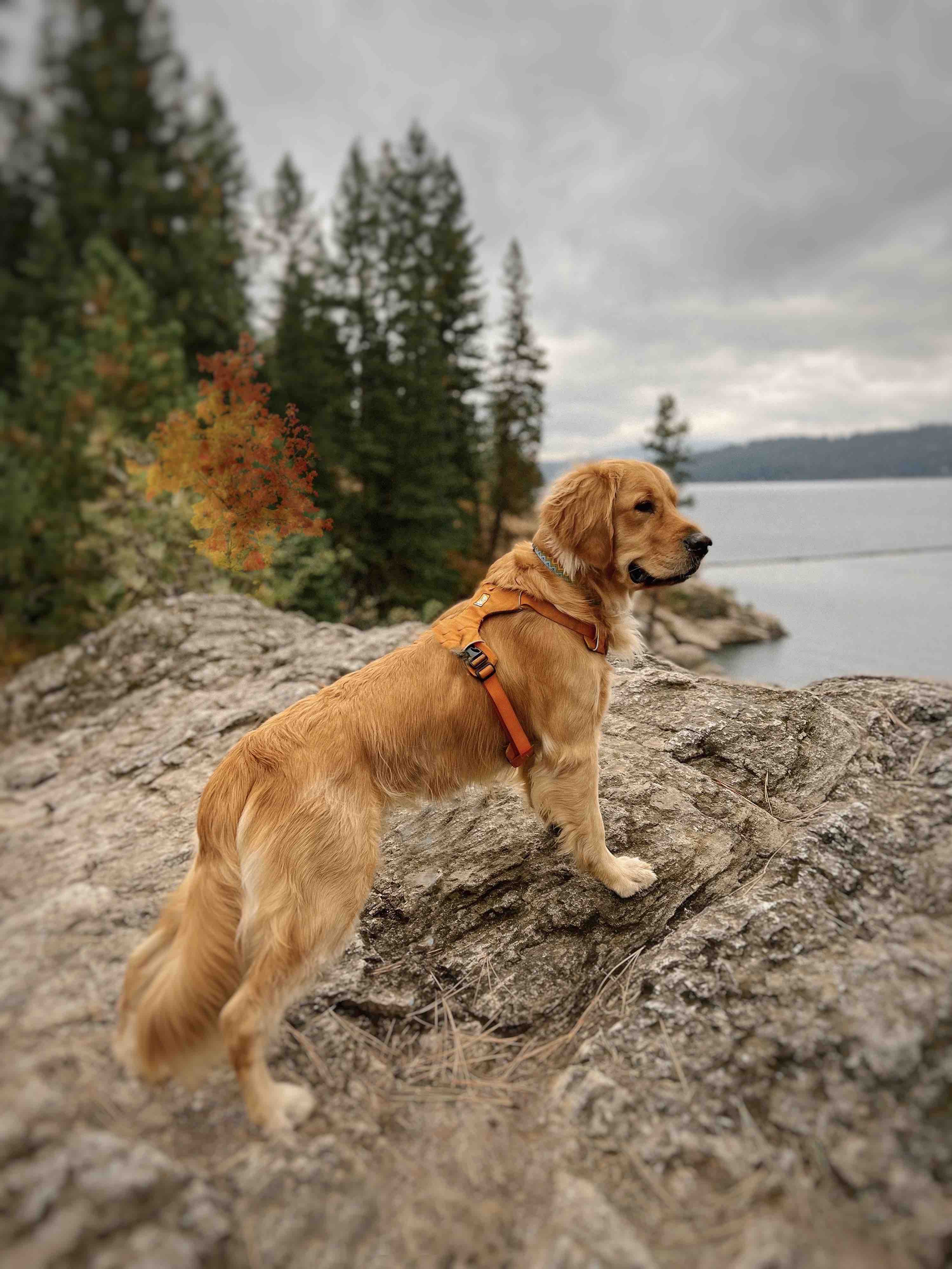 Centennial Trail
Centennial Trail is a beautiful bikeway path along the lake — and also doubles as a great spot to walk with your pup! It features the longest floating boardwalk in the world
and is dog-friendly. The boardwalk is part of The Coeur d'Alene Resort, but it is free to anyone, not just the resort guests. The boardwalk starts on one side of the resort, loops in front of the resort and ends on the other side to make a U-shape — or you can head straight over to the city park from the trail.
Where to Stay
There are the usual hotel chains in the area along with the popular Coeur d'Alene Resort, but I wanted something with more character so I chose the historic Roosevelt Inn! This grand, brick building was the first permanently established schoolhouse in 1905. I was sold on this place as soon as I saw that they have a few doggy ambassadors that live on property! I mean, you can't get more pet-friendly than that! Archie absolutely loved running in the inn's fenced-in yard with his new friends —Gondor, Rohan and Heidi. It's like having your very own dog park!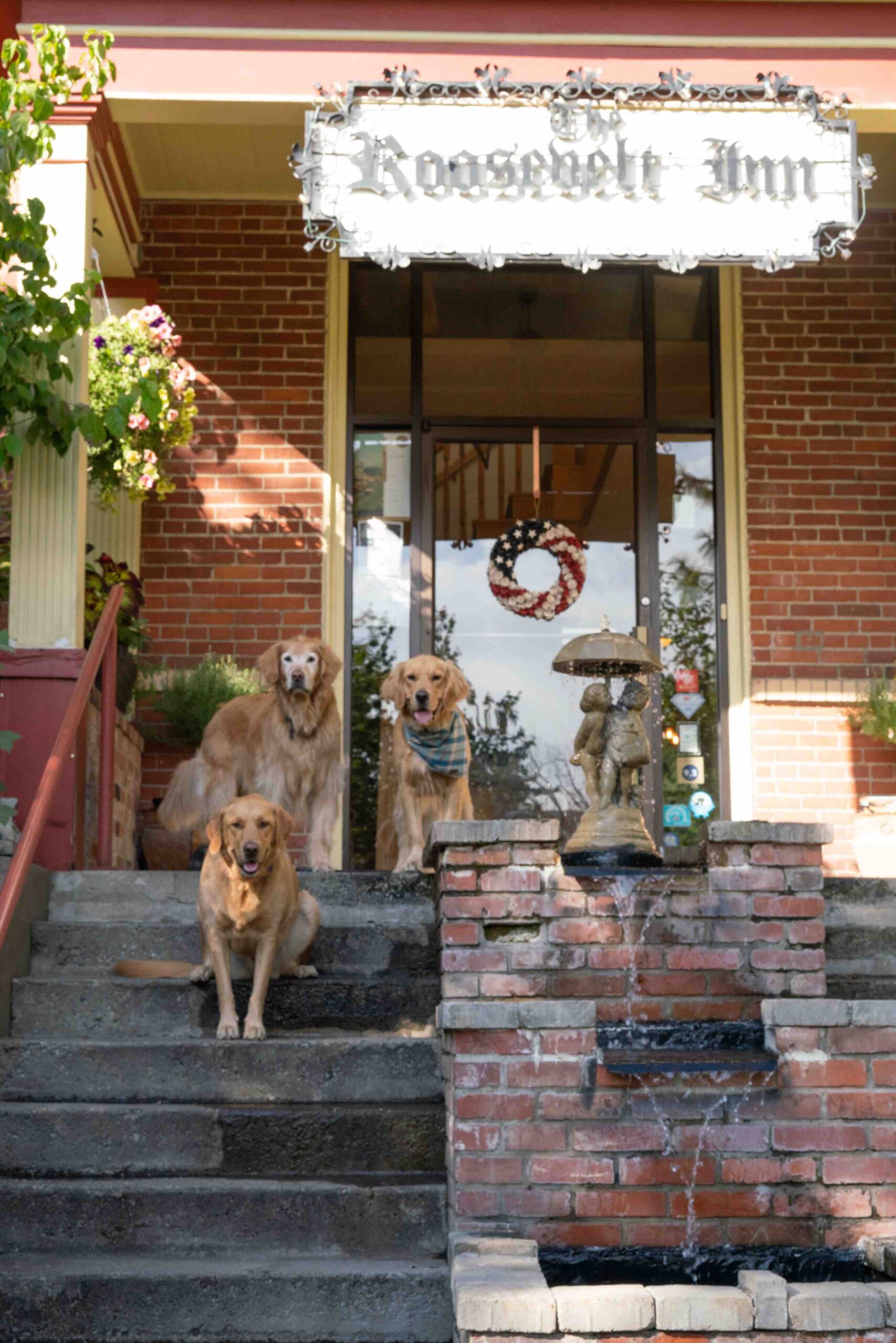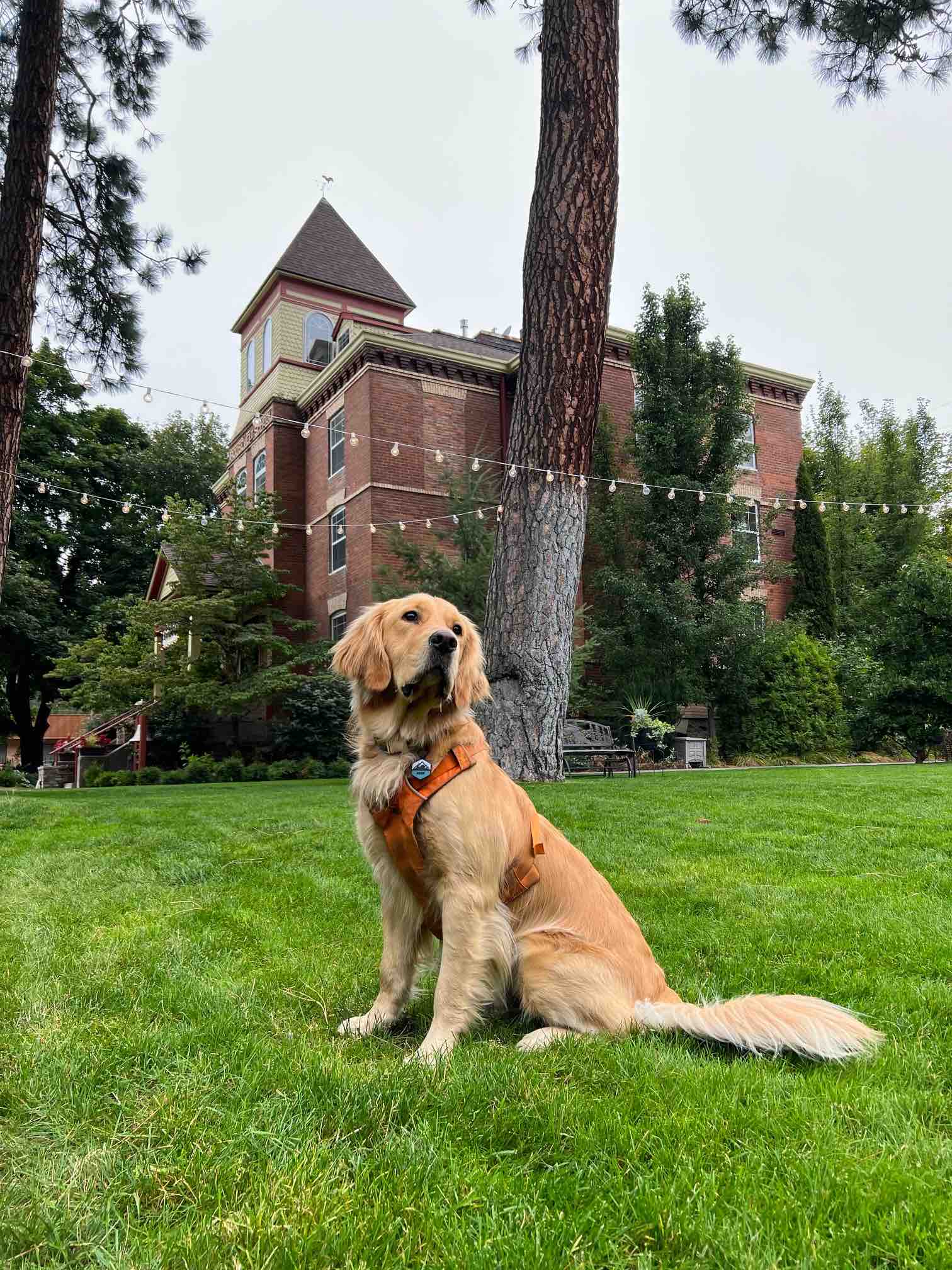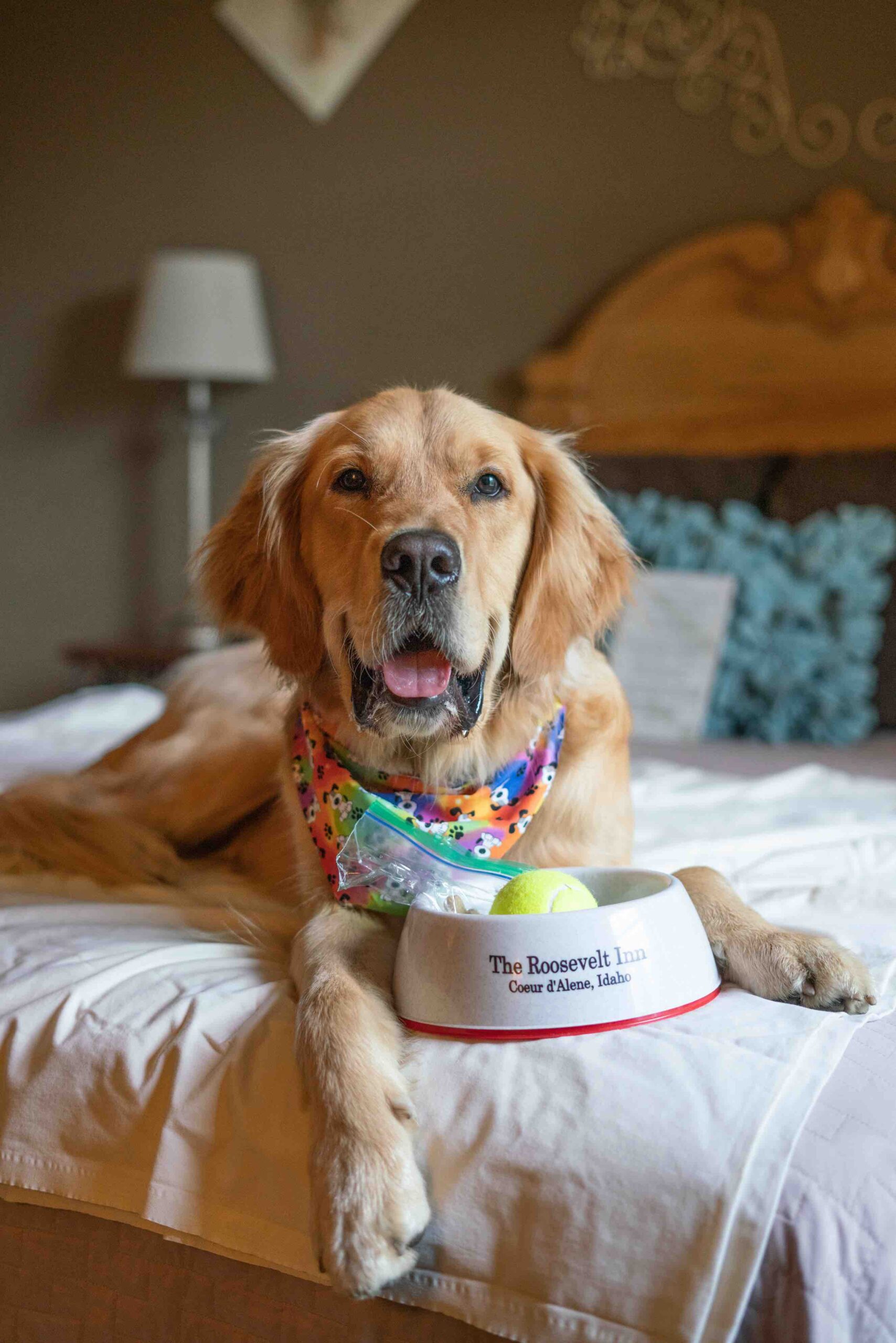 Where to Dine
One thing I noticed about the area is that just because a restaurant has an outdoor patio, you can't assume that they are dog-friendly! Coming from Portland, I was a bit surprised. So, it's always best to call ahead and confirm! For this reason, we can't really personally comment on many as we only dined at two places during our trip. We sat on the patio at Fire Pizza and ordered delicious fresh bagels and sat outside at Rustic.
A few we didn't try that came recommended by others:
Capone's
Sweet Lou's Taphouse
Collective Kitchen
Buoys Bar & Grill
Exploring Downtown
Downtown Coeur d'Alene is a charming, tree-lined strip along Sherman Avenue with shops, galleries, and businesses for about a half of a mile. This is where the restaurants and coffee shops are and all the parks are located just a few blocks off Sherman, as well.
We always love to visit the local pet shops when we travel to a new city so we'd recommend stopping in The Labrador Store & More located in The Resort's Plaza Shops. The shop is designed with your doggy-shoppers in mind and it's the perfect place to pick up a souvenir for your pup or a gift for a friend.
We also had many friends recommend that we stop in the Mountain Madness Soap Company! They have a lovely selection of handmade, small batch soap and bath products — including soap for your pup!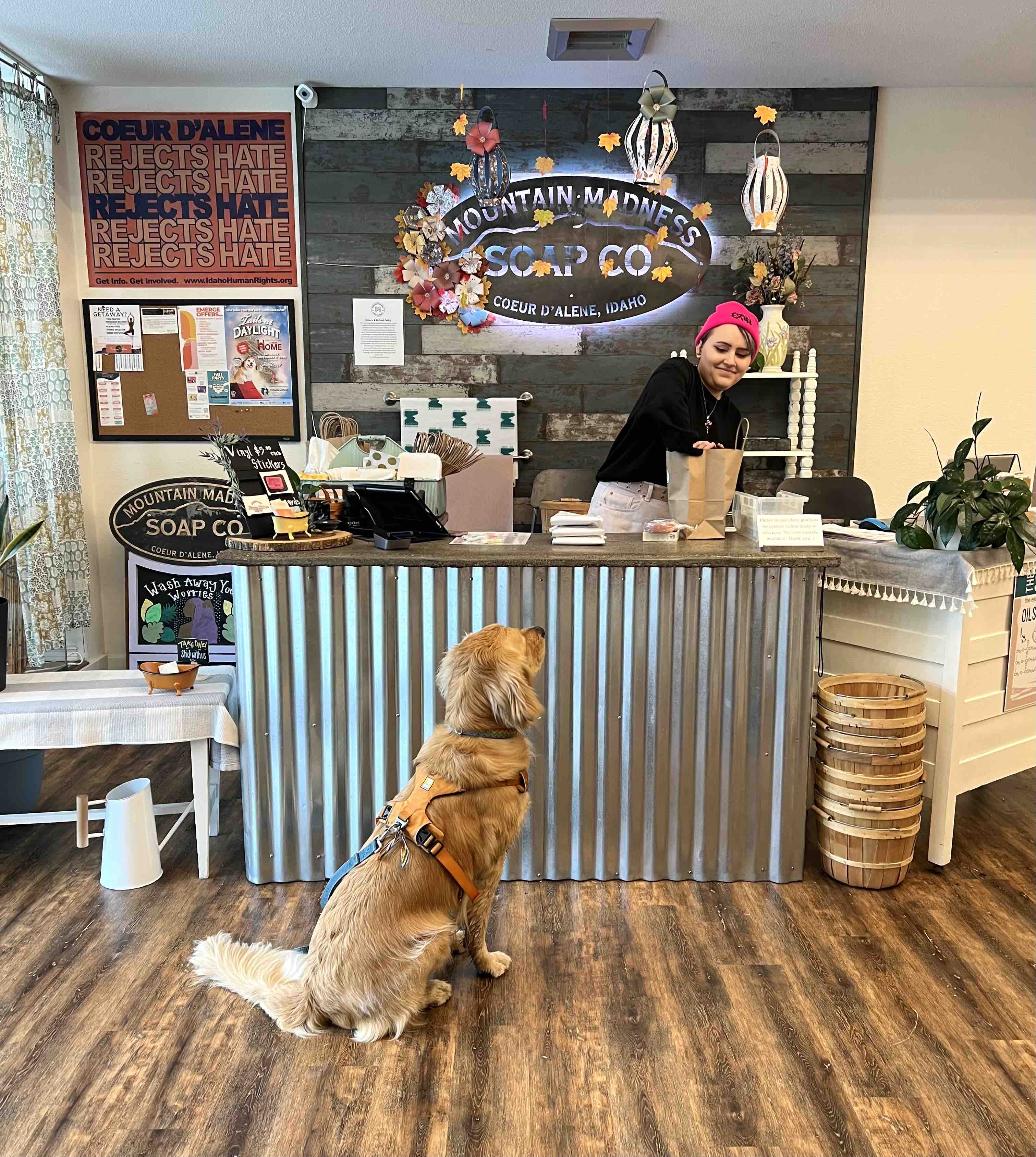 I'd love to know if you've explored Coeur d'Alene! Do you have other suggestions we may have missed? What other cities in the state should we visit and what are some of your favorite pet-friendly hotels? Please share in the comments below!
Check out our Destinations page to view more of our #pawtasticstays and book your next adventure with your pup!