Archie and I recently spent a few days at Cannon Beach, a local town along the Oregon Coast. Cannon Beach is the quintessential small beach town, complete with charming shops, tasty restaurants and miles of sandy beach. It is also an incredibly dog-friendly town! We thought we'd share with you some of our favorite spots and dog-friendly things to do in Cannon Beach.
First up, don't forget to visit Scout's memorial plaque, located in the small grassy park-like area near the entrance to the Hallmark Inn (one of our #pawtasticstays that's also on #scoutsroute!).
Tag us on instagram #inscoutshonor or #scoutsroute if you visit and snap a pic with your pup!
Cannon Beach was Scout's happy place and we're so honored that his story continues to be shared and that this beautiful spot holds a piece of his legacy.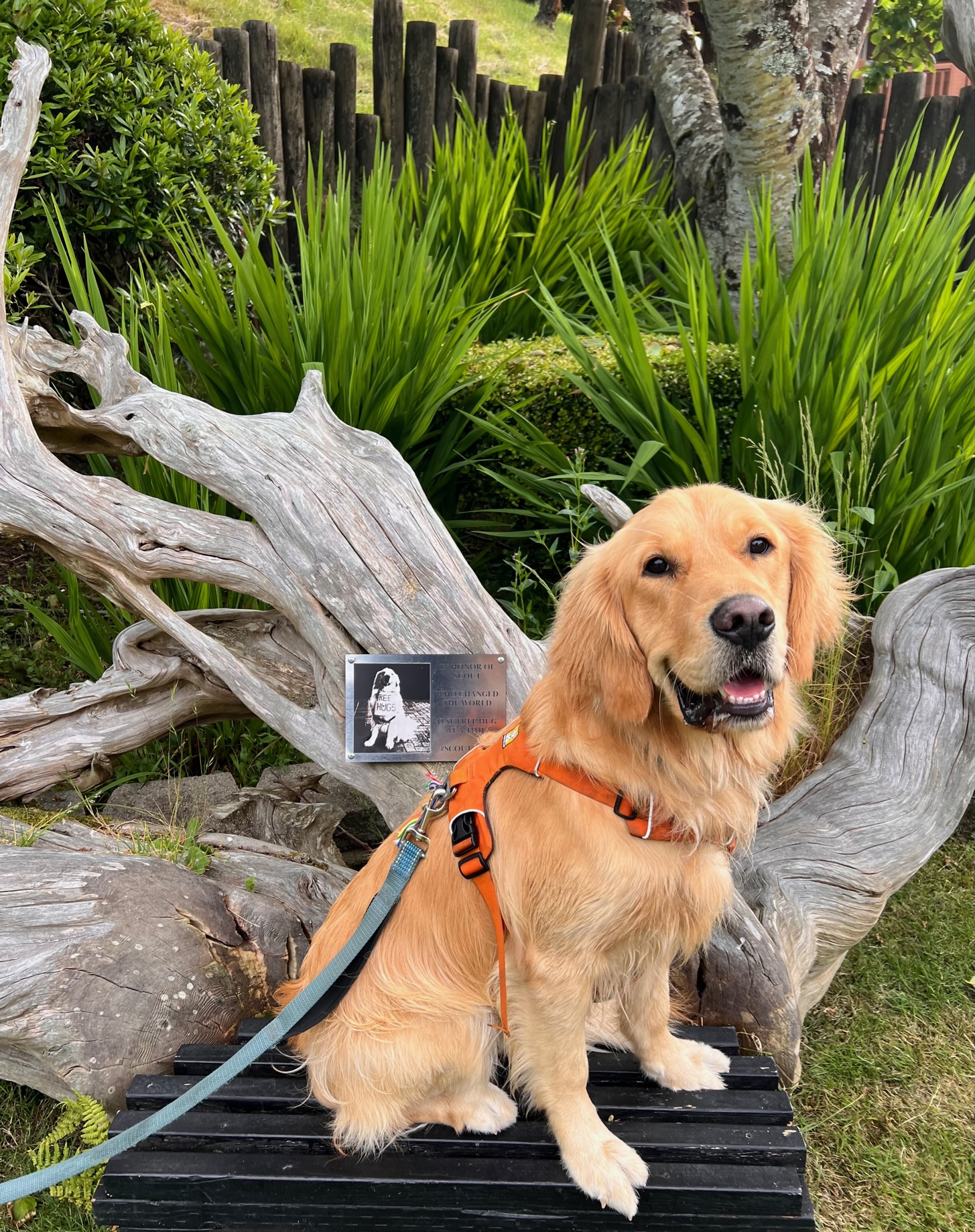 Next on our list, if you and your pup love to shop, there are lots of pet shops and dog-friendly shops in Cannon Beach and the towns walkable streets are perfect for strolling with your pup. The local stores carry a variety of colorful, beach-themed bandanas, collars, leashes, toys and other gear, along with dog food and locally-made treats.
Some of our favorite dog-friendly shops include:
Fetch
Four Paws on the Beach
C&R Mercantile
Make sure to check for signs on the doors of (human) shops in town to ensure they welcome dogs inside.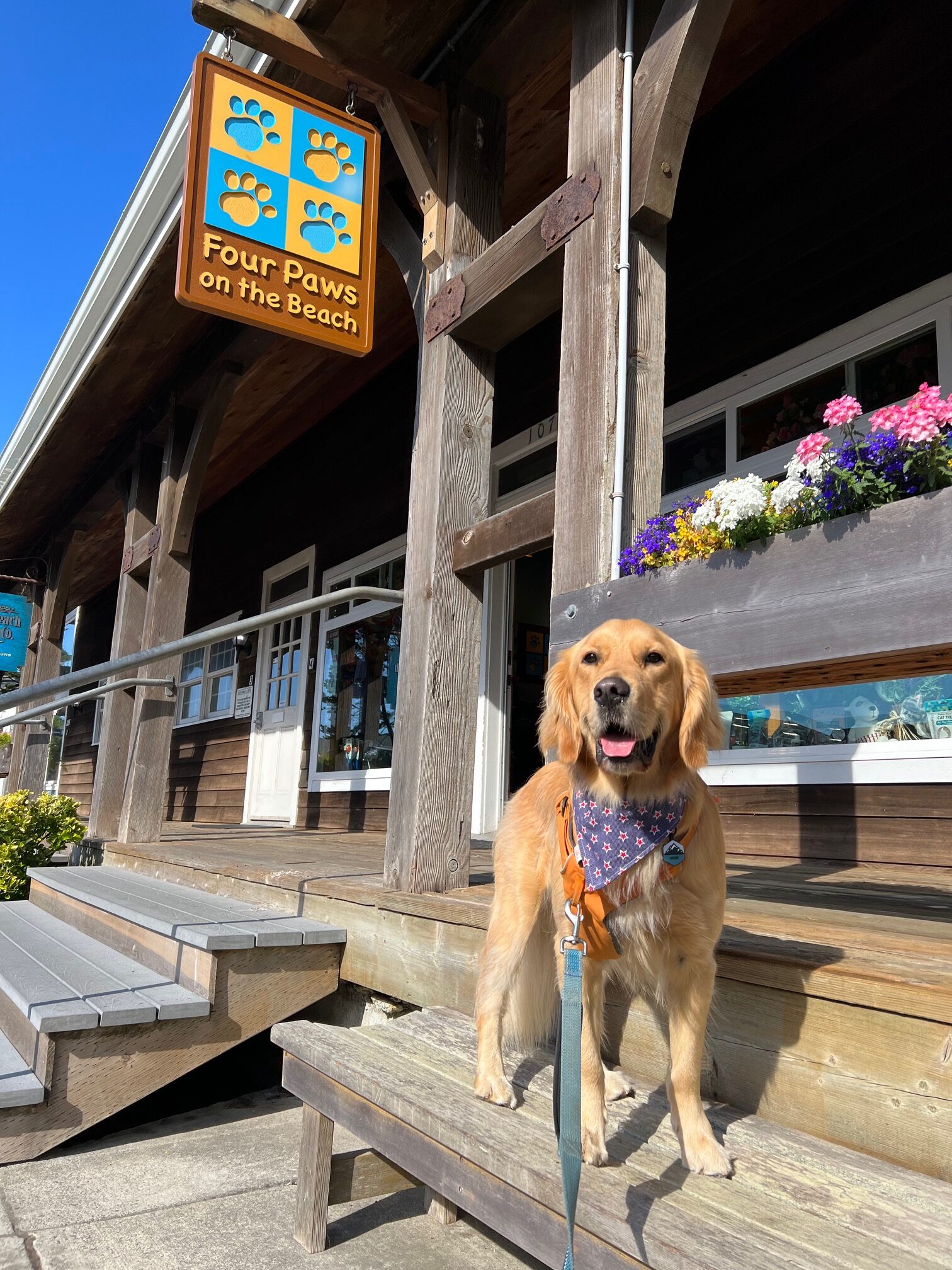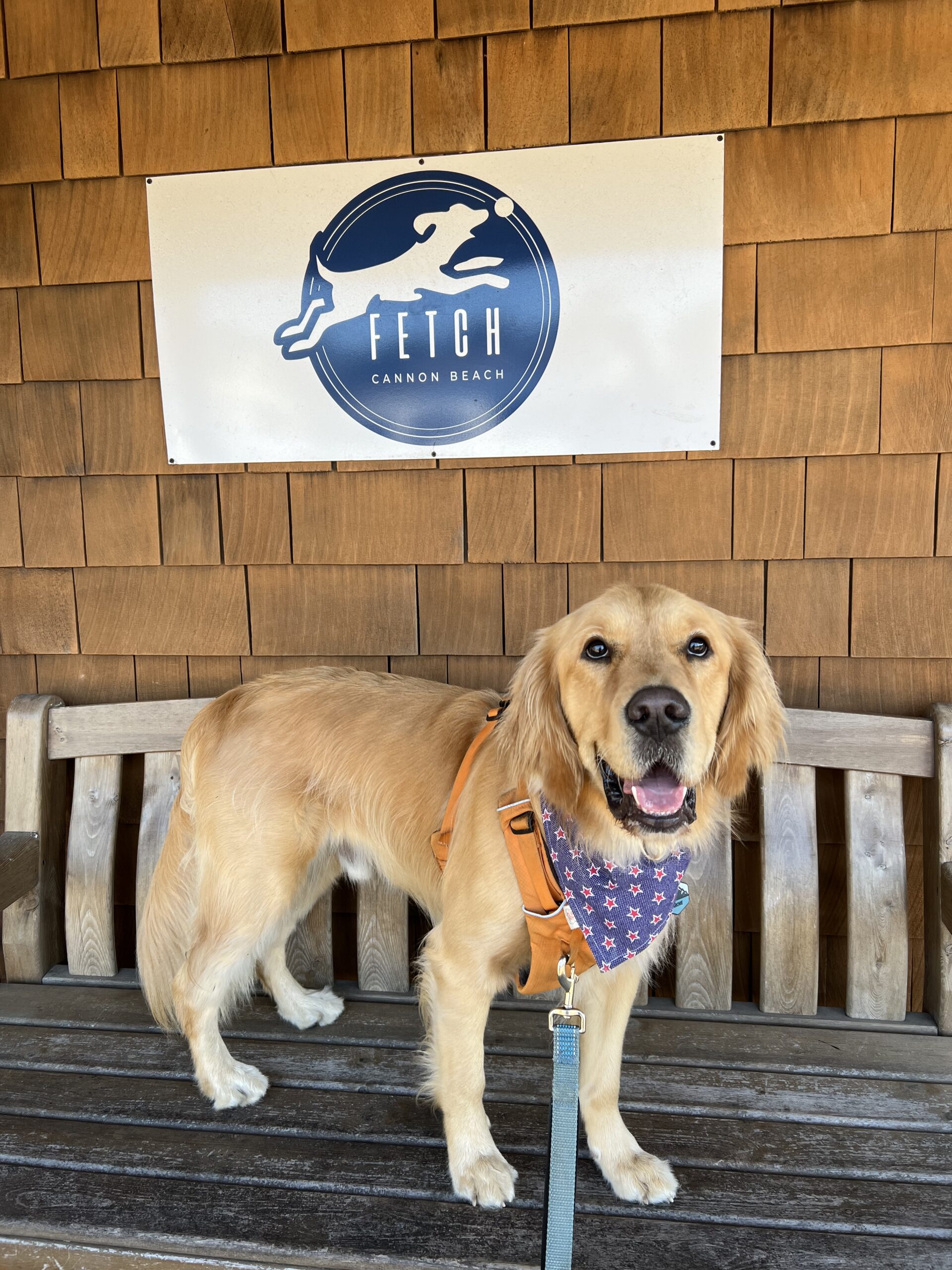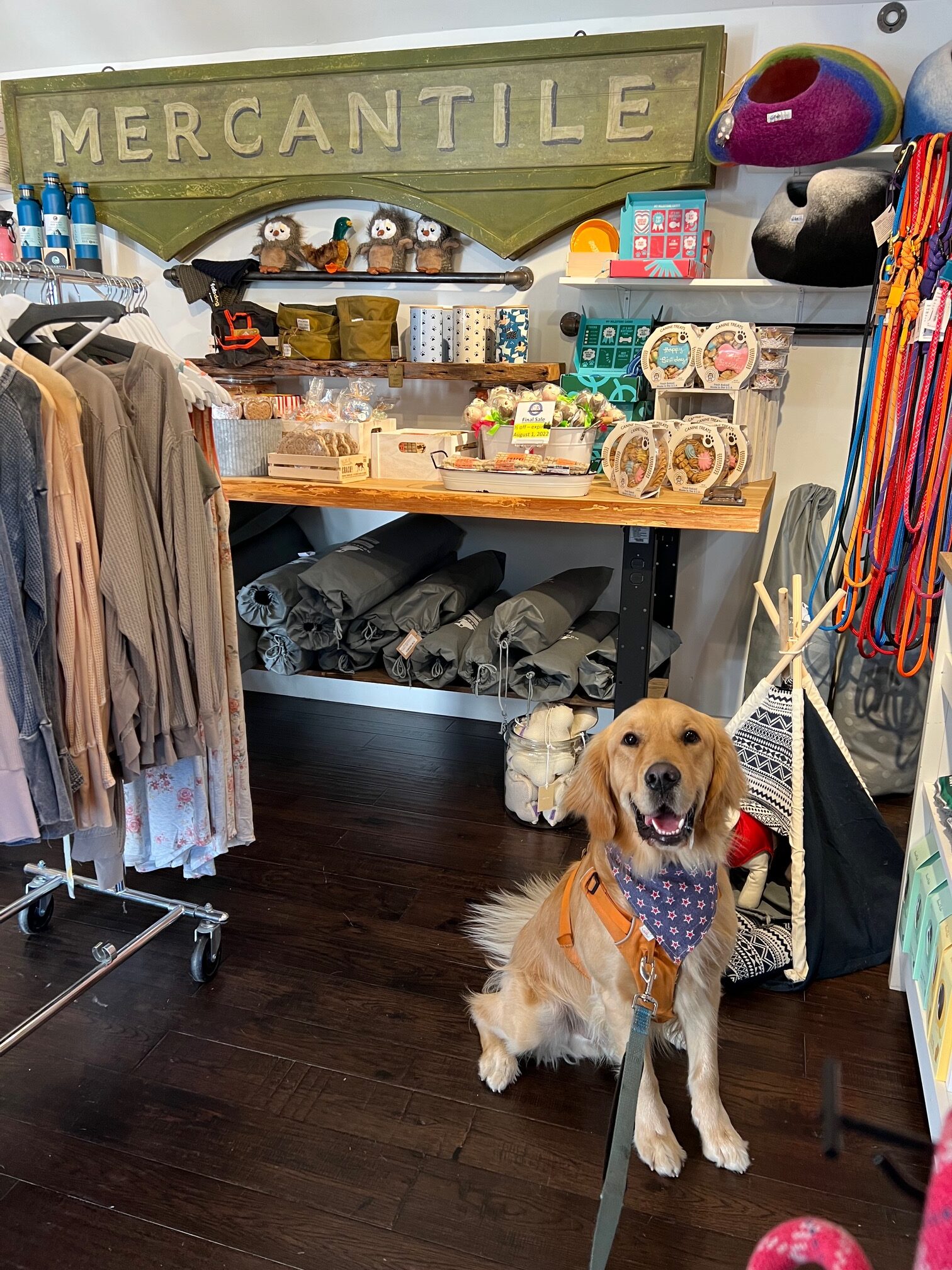 Cannon Beach is well-known for its varied and delicious dining, from casual to fine-dining, there truly is something for everyone — and most restaurants feature dog-friendly patios!
Grab a bite to eat at one of the numerous dog-friendly restaurants found throughout town, including:
Driftwood
Pelican Brewing Company
Public Coast Brewing Company
Newmans at 988 (outdoor patio only — if you want to splurge, I recommend their lobster ravioli!)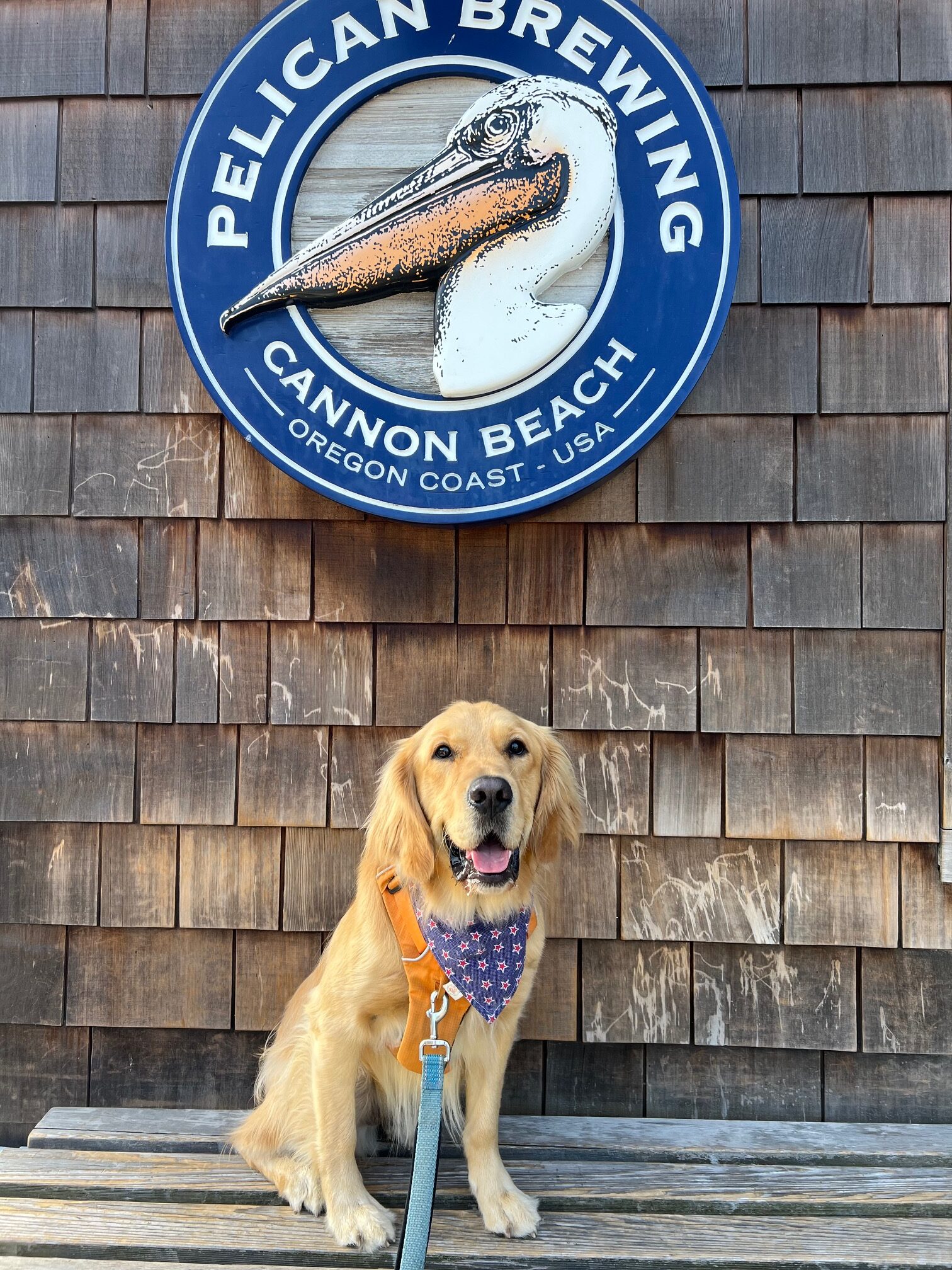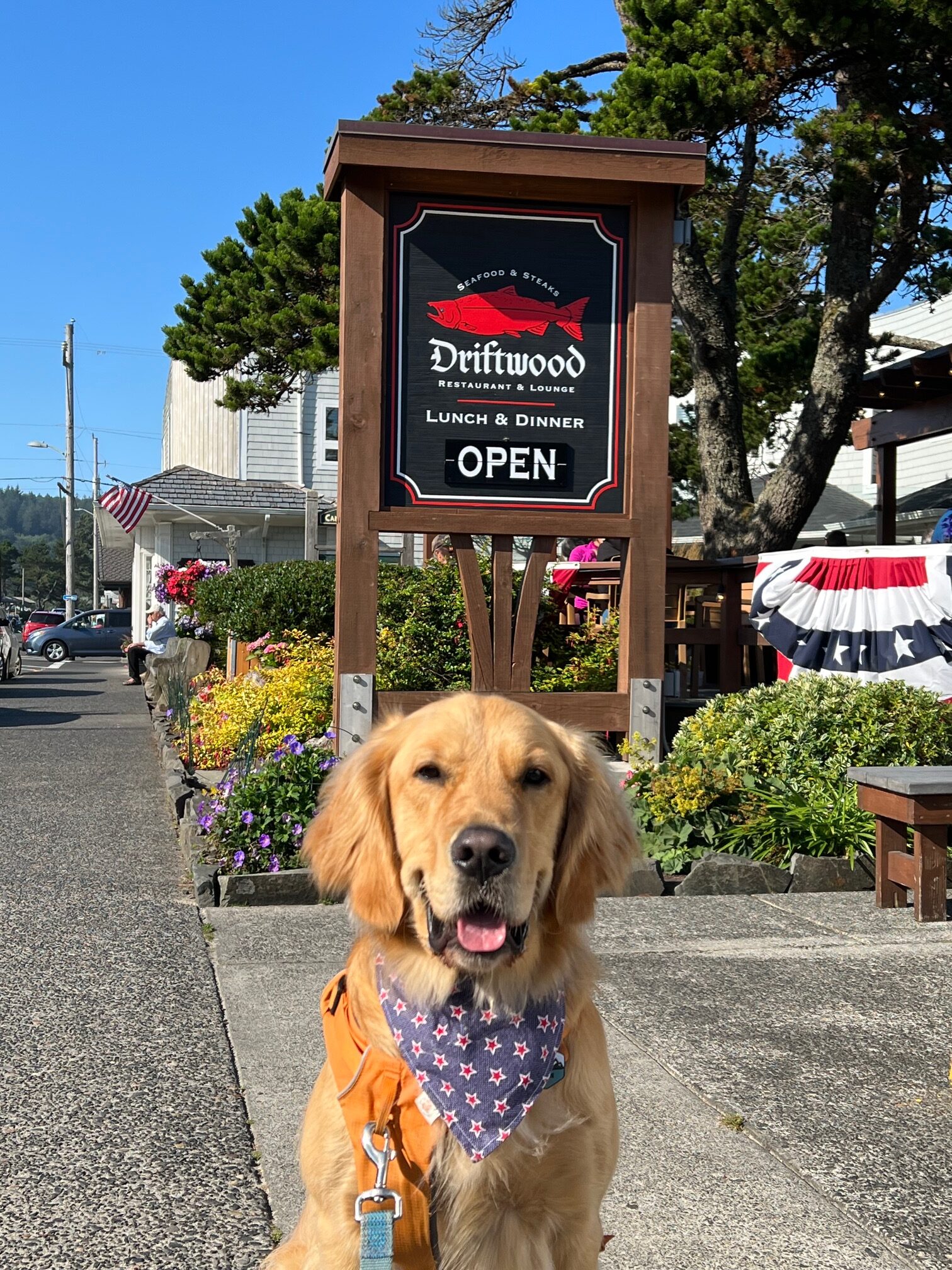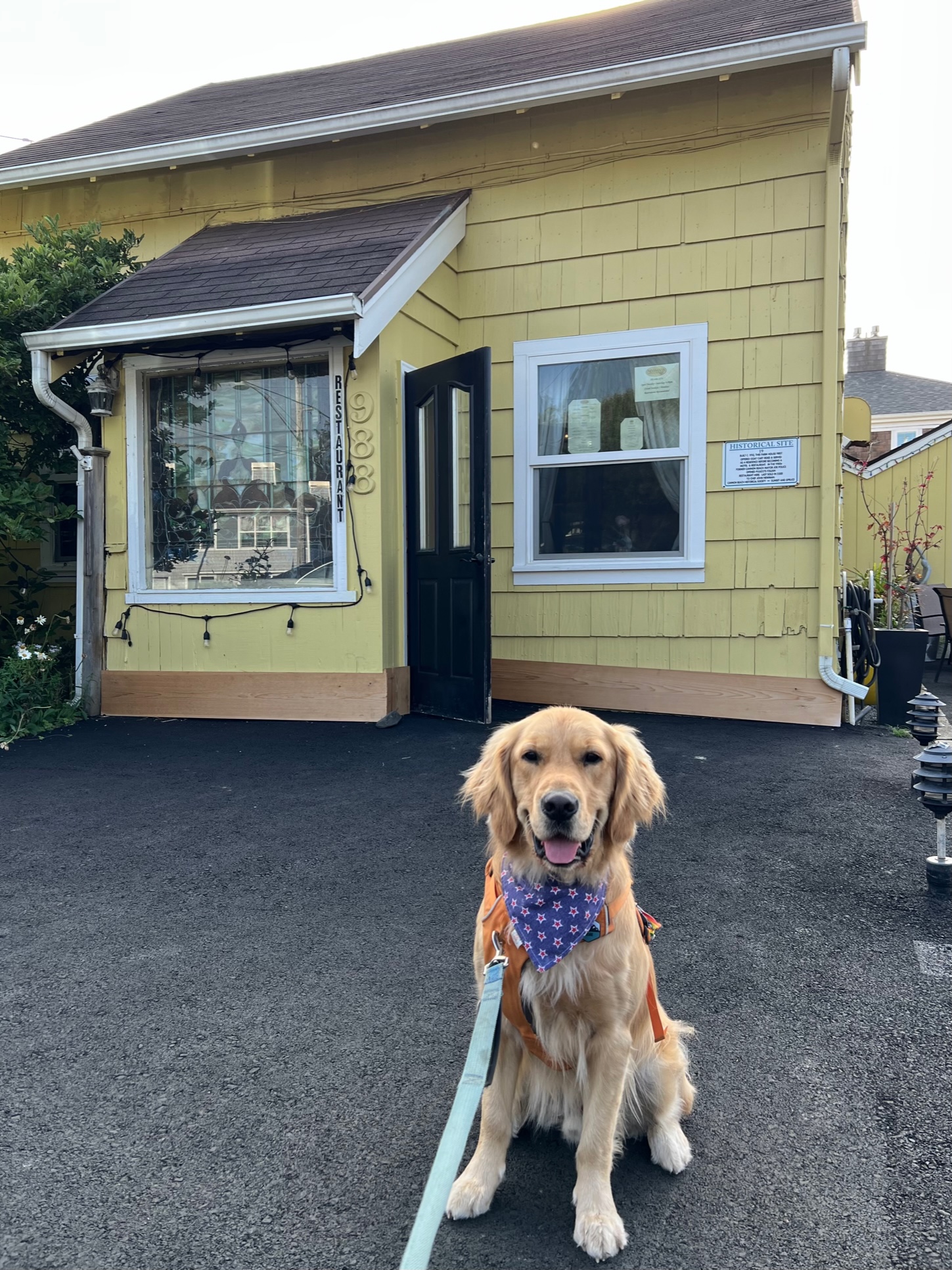 If you're looking for dog-friendly activities, Cannon Beach is only about an hour and a half from the Greater Portland area, and is the ultimate coastal destination for outdoor enthusiasts (both human and canine). 
Here are a few of our top suggestions: 
Walk the beach to Haystack Rock (just a mile south along the beach from downtown Cannon Beach)
Build a campfire to watch the sunset (firewood and s'more supplies can be found at the grocery stores in town — make sure fires are allowed when you visit as there are sometimes fire bans during hot and dry summer months)
Ecola State Park (for a wonderful woodsy drive and miles of hiking trails with lots of incredible viewpoints, don't miss Ecola Viewpoint and the two mile trail to Indian Beach!)
Hug Point (5 miles south of Cannon Beach — if you visit at low tide, this cove-like beach features the old historic highway carved right into the rock!)
Oswald West State Park (7 miles south of Cannon Beach — miles of hiking trails, including a 13-mile stretch of the Oregon Coast Trail, with a railroad-style bridge leading over a creek to Short Sand Beach and a lovely picnic area overlooking the ocean.)
Settling Ponds (this is always on the lists for best birdwatching — it's a sweet, easy walk around the ponds, and in the spring, they're full of baby ducklings!)
Note: Your pup is welcome on most Oregon beaches, and as long as they respond to voice commands and stay within sight, he/she can run free on the beach (please make sure they are not interfering with others' recreational enjoyment or harassing seabirds or other wildlife). However, if you are within the boundaries of a state park (such as Oswald West, Hug Point, or Ecola), they must be kept leashed and a leash carried with you at all times on the beach in case you're asked to restrain your pet by a park employee.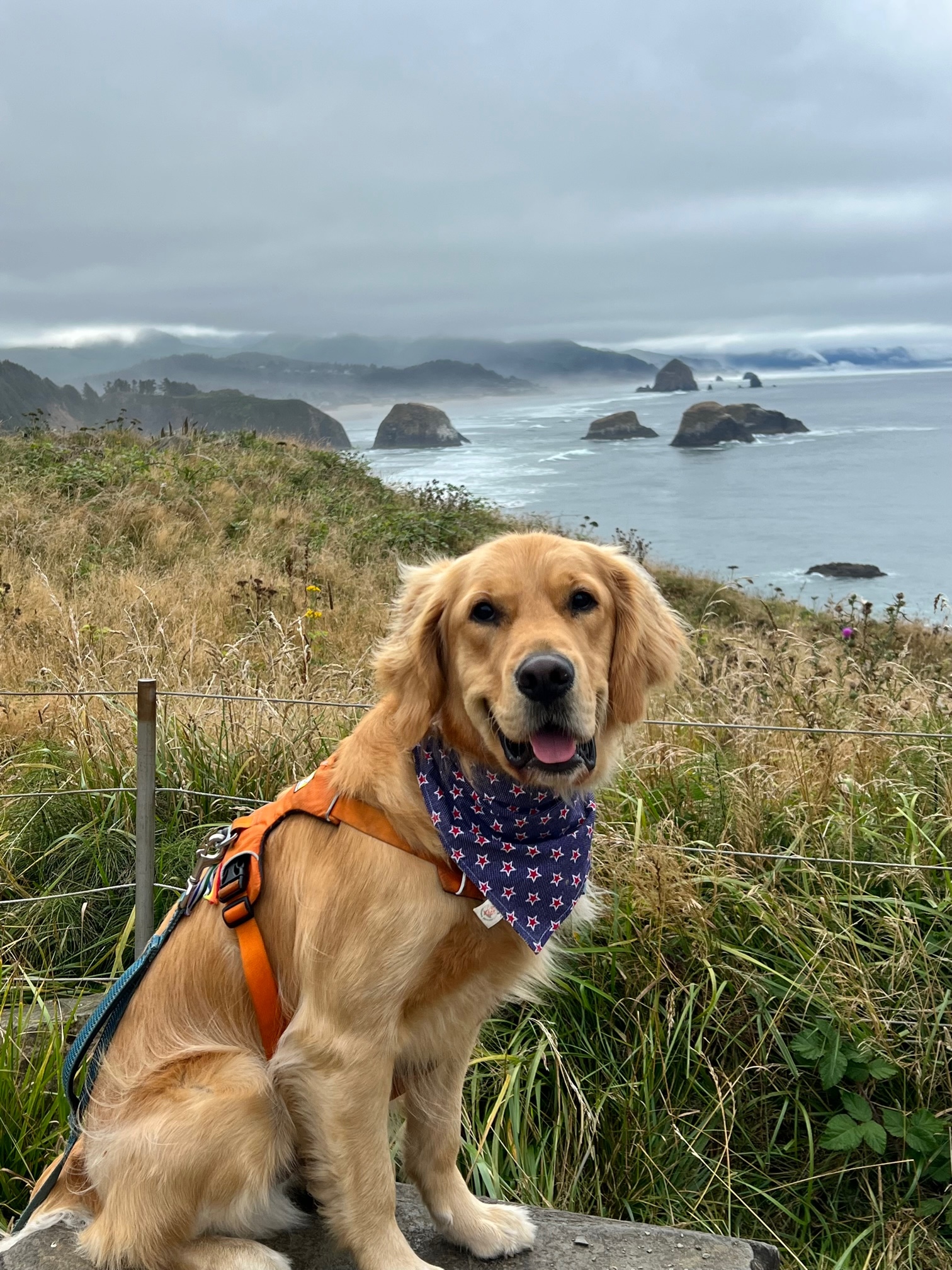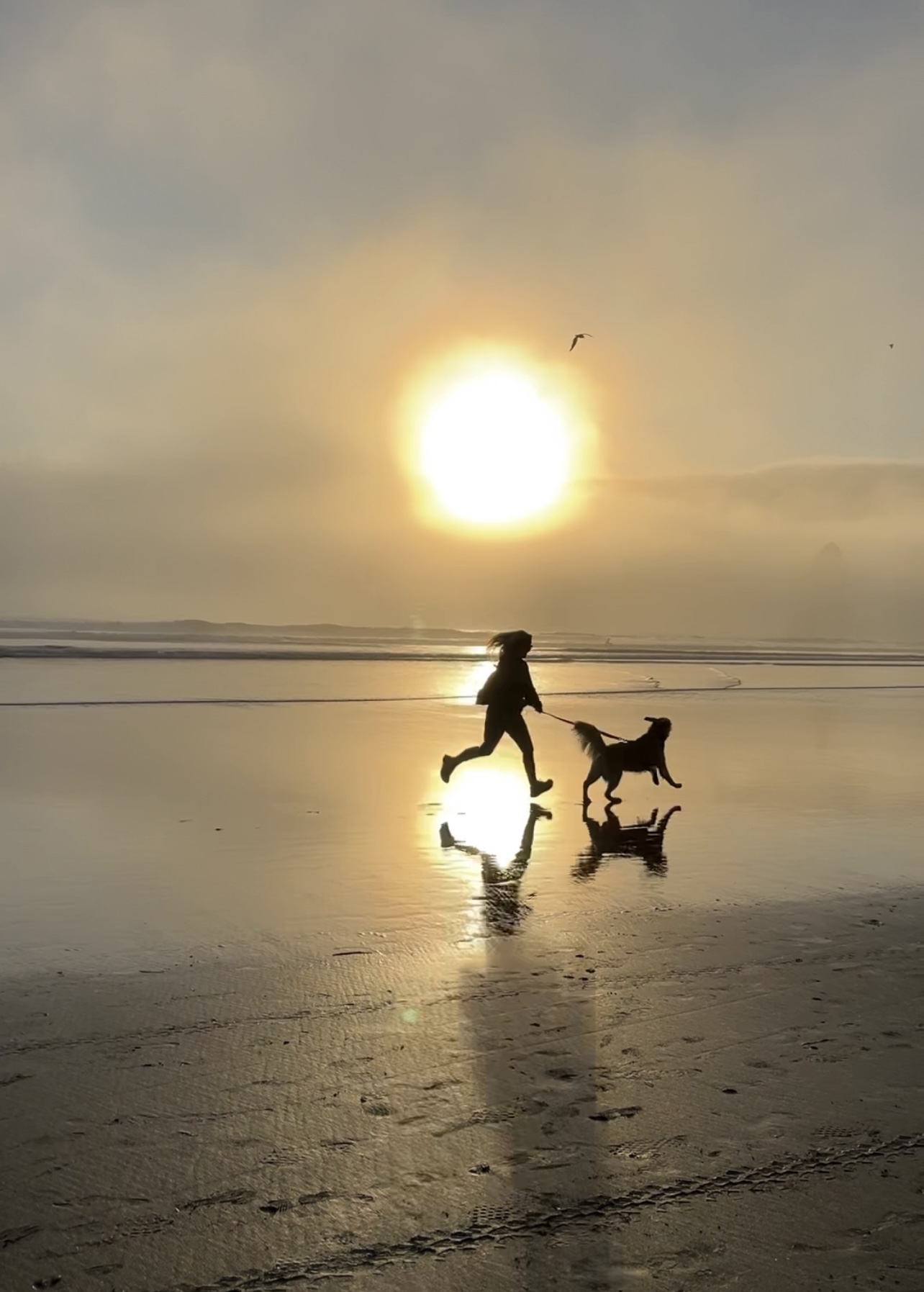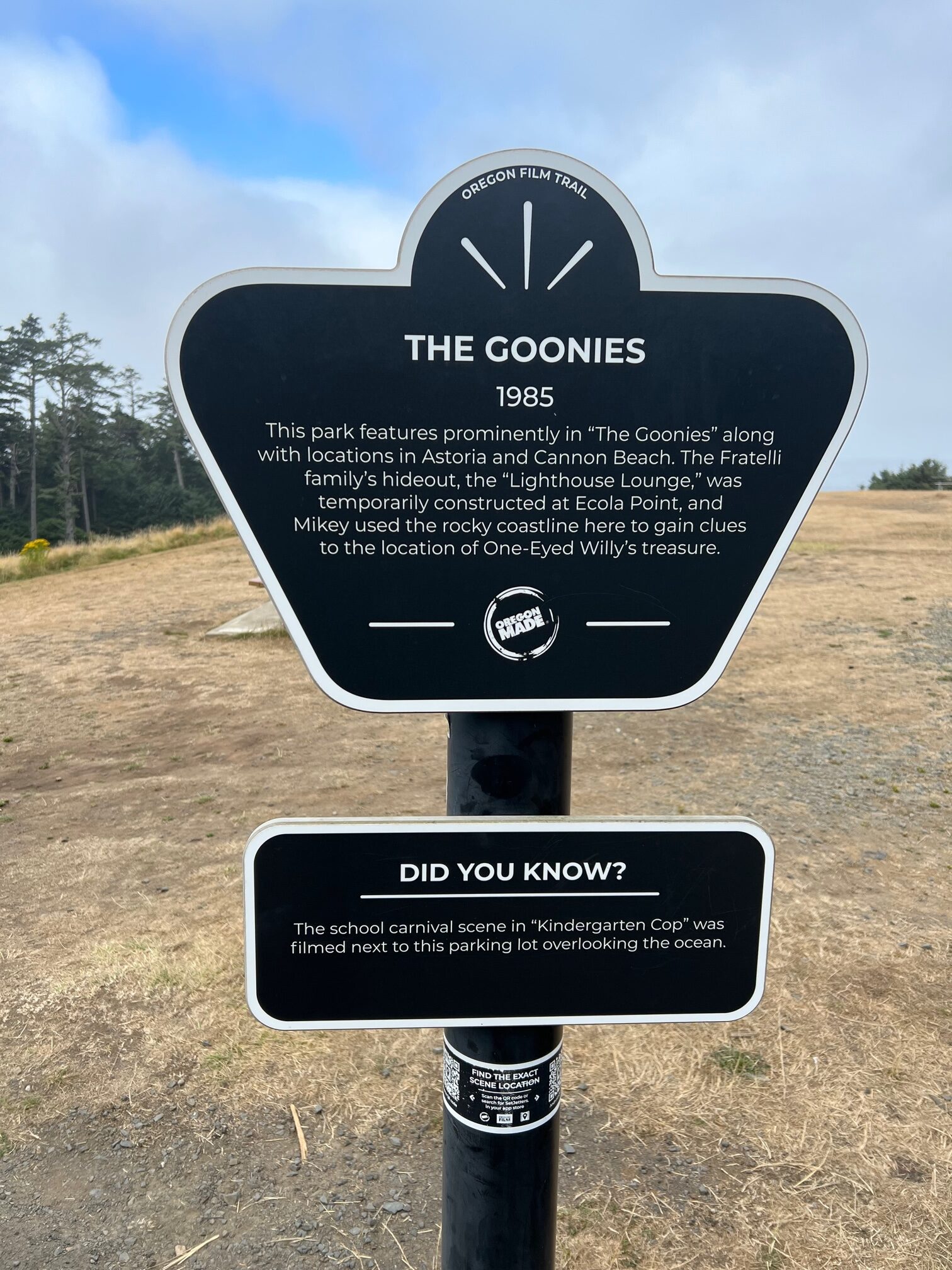 Cannon Beach boasts not just one but two of our #pawtasticstays — the Hallmark Resort (also a #scoutsroute destination and home of the first plaque places in Scout's honor!) and the Surfsand Resort. Visit our Oregon Pawtastic Stays page for more info and to book your stay!
We hope this guide helps inspire you to visit this lovely pet-friendly coastal town with your furry best friend! Which places do you and your pup most look forward to visiting in Cannon Beach? Share in the comments below!